Vegan slow cooker sloppy Joes
As a kid, sloppy Joes meant one thing: Dad was cooking. He'd make a giant batch of them and we'd eat them standing up, spilling the ground beef all over our clothes. It's a food memory I'll always cherish. And now, when I'm craving a taste of my childhood, I make my own batch of sloppy Joes, only a little lighter and totally vegan!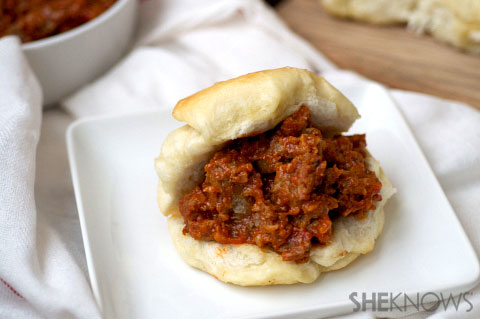 These sloppy Joes taste like the ones Dad made, only completely and utterly meat and dairy free. Instead of ground beef, I used vegetable protein. It crumbles like beef, taste like beef and looks like beef too. Trust me, your kids won't know the difference!
Vegan slow cooker sloppy Joes
Serves about 4
Ingredients: 
1 tablespoon olive oil
1 pound (16 ounces) Gimme Lean ground beef style
1/2 medium yellow onion, diced
1 clove garlic, minced
1/2 cup ketchup
1/4 bell pepper, chopped
1-1/2 tablespoons Worcestershire sauce
1-1/2 tablespoons brown sugar
1 teaspoon mustard
1 tablespoon apple cider vinegar
3/4 teaspoon chili powder
4 homemade buns, cooked (use this recipe)
Directions: 
In a large skillet, heat the olive oil. Add the onion, garlic and cook for about 4 minutes. Add the Gimme Lean ground beef style and break apart with a spatula until broken up. Cook about 4 minutes, or until completely browned. Drain the excess fat.
Combine the ketchup, bell pepper, Worcestershire sauce, brown sugar, mustard, apple cider vinegar and chili powder in the slow cooker. Add meat mixture. Cover and cook on low for about 3 hours, or until warmed.
Serve sloppy Joes with the homemade buns and enjoy!
More vegan recipes
Vegan fettuccine with creamy walnut sauce
Spiced paprika eggplant
Vegan penne alla vodka