Whole wheat chocolate chip and coconut cookies
This dessert is a healthy and simple version of traditional chocolate chip cookies. Absolutely no baking soda or baking powder added! All you need is a handful of wholesome ingredients and you're good to go!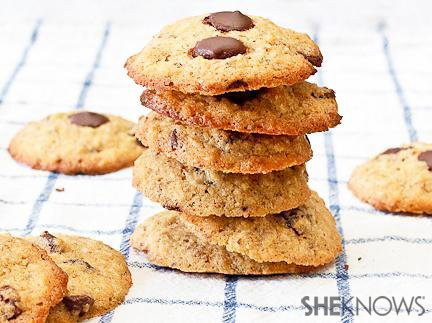 These cookies are light and delicious with the right amount of sweetness. They're incredibly addictive!
Whole wheat chocolate chip and coconut cookies
Makes about 20 cookies
Ingredients:
1/4 cup melted butter
1/3 cup light brown sugar
1 teaspoon vanilla
2 eggs
Pinch of salt
3/4 cup coconut flakes
1 tablespoon flaxseed
1/2 cup whole wheat flour
1/2 cup chocolate chips
Directions:
Preheat the oven to 375 degrees F.
Mix together the butter, brown sugar, vanilla, eggs and salt. Stir in coconut flakes, flaxseed and whole wheat flour, then mix in chocolate chips.
Drop cookie batter in spoon-sized rounds on a lined cookie sheet. Bake for 14 to 15 minutes. Cool slightly and remove from pan.
More healthy recipes
Sweet potatoes with balsamic maple glaze recipe
Harvest glazed carrots recipe
Roasted vegetables recipe