Black bean soup with chorizo
Black bean soup with chorizo packs a lot of flavor from a few key ingredients. Wholesome and filling, this soup is packed with black beans, onions, jalapenos and garlic, with browned ground chorizo to add a ton of flavor!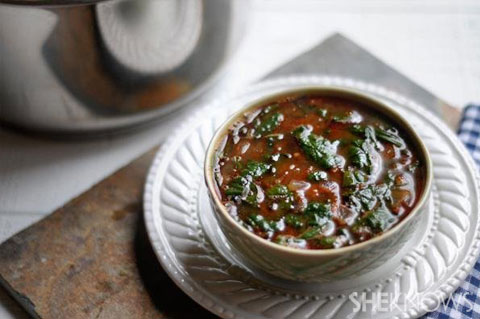 Black bean soup with chorizo
Serves 6
Ingredients:
2 tablespoons olive oil
10 ounces ground chorizo sausage
1 small red onion, chopped
2 jalapenos, seeded and chopped
2 cloves garlic, minced
6 cups chicken stock
2 (15 ounce) cans black beans, rinsed and drained
6 cups chopped fresh baby spinach
Directions:
Heat a large soup pot over medium heat.
Add the olive oil, chorizo and onion and stir to break up the sausage and combine.
Allow to cook for about 10 minutes, until the sausage is browned and cooked through and the onion is soft.
Add the jalapenos, garlic, chicken stock and black beans.
Bring to a boil over medium-high heat, then reduce to medium and simmer for about 20 minutes.
Remove from the heat, add the spinach and stir to combine. The spinach will wilt in the soup.
Serve hot.
More flavorful recipes using chorizo
Easy chorizo queso dip
Chorizo mac and cheese
Chorizo pizza with arugula and caramelized onions