Ultimate garlic bread
Ultimate garlic bread combines the triple threat of cheese, butter and pesto for a bread side everyone will be asking for!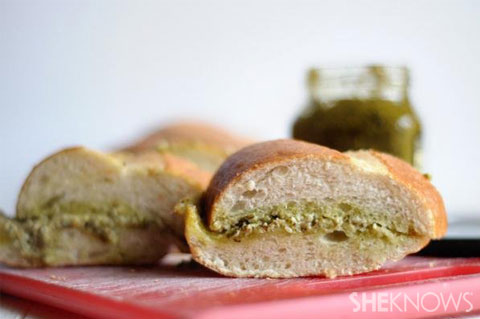 Ultimate garlic bread
Serves 8
Ingredients:
1 loaf French bread, sliced lengthwise down the middle
8 tablespoons butter
1/4 cup prepared pesto
1/4 cup finely grated Parmesan cheese
4 cloves garlic, minced very finely
Directions:
Preheat oven to 400 degrees F.
Open the sliced bread so that the cut side is completely exposed.
Mix together the butter, pesto, cheese and garlic until completely combined.
Slather half of the butter mixture on each half of the bread, making sure to spread all the way to the edges.
Close the loaf and wrap in foil.
Bake at 400 degrees F for 20 minutes, then carefully remove the foil, open the loaf and cook another 2 to 3 minutes until everything is melted and bubbly.

Serve hot.
More fantastic garlic bread recipes
Fried garlic bread
Herb garlic bread
Cheesy pull-apart garlic bread