Ooey gooey s'mores personal pies
S'mores aren't just for summertime, friends. These amazing chocolate desserts topped with gooey marshmallows and graham crackers can be served any time of the year. In fact, we have s'mores Fridays at our house.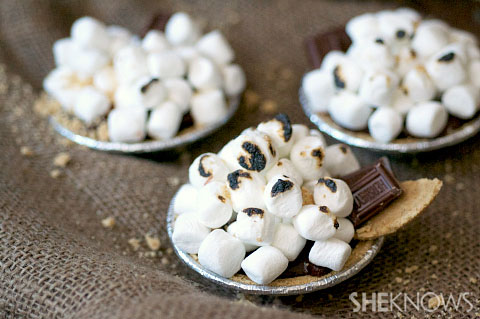 These amazing s'mores personal pies are perfect for your kids' tiny little hands. In addition, they also make great desserts for book clubs, adult parties and after-school snacks!
Ooey gooey s'mores personal pies
Yields about 6 mini pies
Ingredients: 
6 mini graham cracker crusts
1 box chocolate fudge pudding
1-3/4 cups 2 percent milk
1 bag mini marshmallows
6 graham crackers
3 mini Hershey's bars
Directions:
In a large bowl, whisk the pudding and milk together until combined. Cover with Saran wrap and let sit in the fridge until set.
Once set, scoop pudding into the 6 mini pie crusts. Top each pie with marshmallows. Crumble the graham crackers and sprinkle the crumbs over the marshmallows.
Using a blowtorch, toast the marshmallows until golden brown and browned. Garnish each pie with 2 mini Hershey's bars.
More s'mores recipes
Simple s'mores pie recipe
S'mores dessert pizza
S'mores milkshake