Modern Mom: Teaching your kids to love cooking
We all want to raise healthy eaters that know how to cook a good meal. Here are some tips on just how to do that!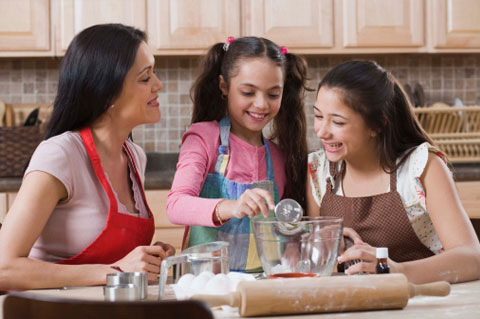 I'll admit it — I'm a bit jealous of adults who know how to cook (and enjoy it). Cooking at home is less expensive than eating out and typically is much healthier. You know exactly what is going in your food and how much of it you're eating. Learning to cook teaches kids how to follow directions, it exposes them to a wide variety of foods and it gives them a hobby. Plus, if they enjoy cooking, you'll have a little helper at all times. It's a win-win for everyone. So, how exactly do you get your kids to enjoy cooking? Let's explore…
Make it fun
Kids like to have fun — whether they're a toddler or a pre-teen. Let them pick out a recipe once a week. Even if it's macaroni and cheese, you can teach them to make it from scratch using healthy ingredients versus cooking it from a box. Let them discover how much tastier and more satisfying home-cooked meals are. Another way to have fun in the kitchen is by getting messy. Allow your kids to take part in rolling the pizza dough or chopping vegetables (if they're old enough, of course). Decorate cookies and allow frosting and flour to cover your counter tops.
Don't turn it into a chore
What kids like chores? None! Never force your kids to help you cook in the kitchen. Instead, offer them a few things they can do to help out. If one night they don't want to help, that's OK. By forcing them to help, it takes away from the fun.
Tip: If you're stuck in a rut, suggest baking and decorating cookies. Very few kids will say no to that!
Switch it up
Variety is the spice of life. Have your kids help you with breakfast on the weekends, dinners a few times a week and on-the-go snacks for the afternoon. Try to change up what you make and what recipes you use. Kids tend to get bored easily — and the last thing you want is for them to get 'bored' with cooking.
Make it educational
Growing up, during the summer months, my mom picked one food per week to teach me and my siblings about. We learned the health benefits avocados had to offer, why carrots are good for your eyes, the difference between white bread versus whole grain, and more. We made a few recipes with that food each week, too. I remember looking forward to Monday mornings when my mom revealed the new food. This is one tradition I fully intend on passing down to my own kids.
Help them understand why cooking is important
Cooking is a learned life skill that parents should be teaching to their kids. Help them understand why cooking is important — for reasons such as living a healthy lifestyle, saving money, having fun, feeding themselves and their families when they grow up and being creative.
By teaching your kids to cook, you may end up finding a love for cooking, too!
More Modern Mom
Modern Mom: Helping kids with food allergies
Modern Mom: Teaching kids table manners
Modern Mom: The worst foods for kids and what to replace them with
Photo credit: Jupiterimages / Stockbyte / Getty images