Dinner Shortcuts: Chicken sausage and basil pasta
Chicken sausage is full of flavor and pairs perfectly with pasta and fresh basil. Sprinkle with Parmesan cheese and call it a night.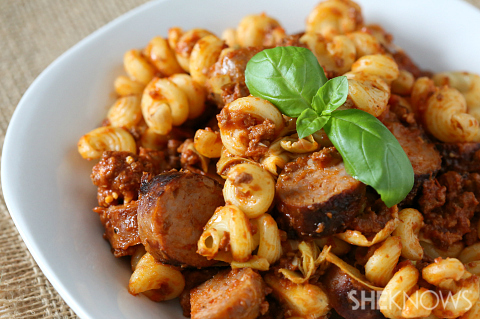 Pasta is my go-to weekday meal choice. It's fast, easy and I can customize it almost any way I want. This heart dish is full of tomato, sausage and basil flavor. I also threw in a little marinated artichoke hearts because they bring a lot of flavor and are easy to incorporate. Trust me, your whole family is going to love this dish.
Chicken sausage and basil pasta
Yields 4 servings
Ingredients:
1 pound pasta
2 tablespoons olive oil
1 pound basil chicken sausage, sliced into bite-size pieces
1 (26 ounce) jar marinara sauce
1/3 cup diced fresh basil
1 clove garlic, minced
1/3 cup chopped marinated artichoke hearts
1/4 cup fresh Parmesan cheese
Directions: 
Fill a large pot with water and set over high heat. Once the water is boiling, add in 1 tablespoon kosher salt and pasta. Boil until al dente, following box directions. Once cooked, drain.
While the pasta is cooking, start your sauce. In a large skillet over medium heat, add olive oil. Once the oil is hot, add in sausage and cook until browned.
Add in marinara, basil, garlic, artichoke hearts and Parmesan cheese. Gently simmer until warmed and toss in cooked pasta.
Serve with more Parmesan cheese if desired.
More Dinner Shortcuts recipes
Greek meatball sliders recipe
Italian sub crescent roll-ups recipe
Chicken and rice casserole recipe