Sweet and simple strawberry pies
For this recipe I wanted to make a pie that wasn't difficult so I used my handy secret weapon, puff pastry! It's the best shortcut to any dessert. And best of all, this recipe only uses a handful of ingredients, perfect for the busy moms out there!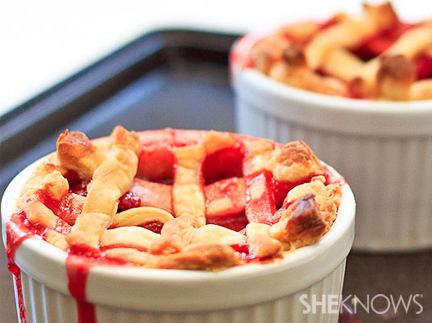 Try baking these delicious strawberry pies for your kids. Your friends and family will surely be impressed!
Sweet and simple strawberry pies
Makes 4 servings
Ingredients:
1 sheet thawed puff pastry
2-1/2 cups fresh strawberries, quartered
1 teaspoon vanilla
1/4 cup sugar
1/4 cup flour
1 teaspoon lemon juice
Directions:
Preheat the oven to 400 degrees F.
Spray 2 to 4 ramekins with oil or butter and place in the fridge. In a bowl, combine vanilla, sugar, flour and lemon juice, then mix in strawberries. Set aside.
Roll out puff pastry and cut out pieces large enough to fill the insides of your ramekins. Press each pastry piece inside, then fill each with the strawberry mixture. Cut thin strips of puff pastry. Arrange in a criss-cross pattern over the top and pinch each seam together at the edge.
Place ramekins on a sheet pan and bake for about 40 minutes. Cool and serve with whipped cream or ice cream.
More simple recipes
Sweet potatoes with balsamic maple glaze recipe
Harvest glazed carrots recipe
Roasted vegetables recipe