Valentine's Day cookie pops
These fun cookie pops are the perfect Valentine's Day gift for coworkers, your kids' teachers and even for yourself.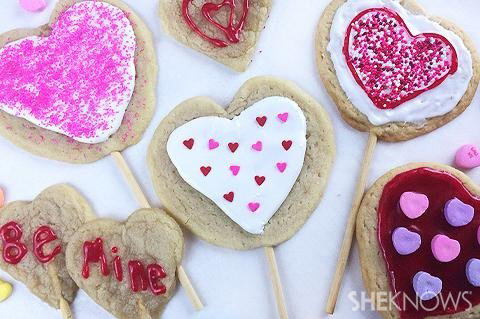 Before you scoff at the idea of making your own cookie pops, let me assure you... These cookie pops are super easy. They use refrigerator cookie dough and don't require you to be Renoir with a pastry tip. They're a simple, fun project you can do with the kiddos.
Valentine's Day cookie pops recipe
Yields 12-24 (depending on cookie cutter size)
Ingredients:
12-24 blunt-tip wooden dowels, lollipop sticks or ice pop sticks
Flour
1 (16.5 ounce) roll refrigerator cookie dough
Cookie frosting in Valentine's Day colors
Sprinkles, nonpareils and other small candies in Valentine's Day themes or colors
Directions:
If you're using wooden dowels or ice pop sticks, soak them in water for at least 1 hour prior to using.
Preheat the oven according to the cookie dough package directions.
Lightly flour a rolling surface, your hands and a rolling pin.
Remove the cookie dough from the wrapper and roll it into 1 large or 2 smaller balls. Dust it with a small amount of flour and roll it out to 1/4-inch to 1/2-inch thick.
Use cookie cutters to cut shapes from the dough, and set aside. Roll out any scraps and cut additional shapes. Continue until you have used as much of the dough as possible. You can make any leftover dough that isn't big enough for your cutters into a small cookie.
Place the sticks on a lightly greased cookie sheet about 4 to 6 inches apart (depending on the size of your shapes). You want at least 2 inches of space between the cookies so they have room to spread out.
Lay the shapes on top of the sticks with the tip about halfway up the back of the cookie and gently press the dough down around the stick. The baking process will take care of the rest.
Bake the cookies according to package directions.
When the cookies have completely cooled, frost them and use the candies and sprinkles to decorate them. If you're letting the kids help you, line the decorating surface with newspapers or trash bags, and have plenty of hand wipes available. Let the cookies dry in a cool, dry place in a single layer until they're dry.
More Valentine's Day treats for kids
10 Non-candy Valentine's Day classroom treats
6 Sweet edible Valentine's Day crafts
Fruit Roll-Ups fortune cookie valentines