School morning breakfasts in 10 minutes or less
There's no reason to get up at 5 a.m. on a school day just to make sure your kids eat a proper breakfast. These easy breakfast ideas will have "feed the kiddos" off your morning checklist in 10 minutes or less.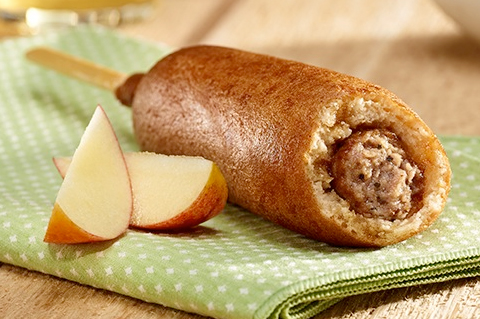 Instead of feeding your kids sugary cereals (or healthy ones they'll complain about with every bite), try one of these ideas for a healthy breakfast that won't take much longer than cold cereal.
Fun, dippable breakfast
Kids love eating things they can dip (and if we're being honest, moms do too). Make your kids a fun and fully dippable breakfast treat by picking up some Jimmy Dean Pancakes & Sausage on a stick. Give each child one sausage pancake on a stick with half a sliced banana, fresh strawberries or raspberries, sliced kiwi and sliced honey dew melon. Serve it up with some low-sugar syrup and low-fat strawberry or blueberry yogurt. They can dip anything on the plate in either dip (or both) for a fun and interesting flavor in every bite.
Toad in a hole "omelet"
Make toad in a hole by using a cookie cutter to cut a fun shape out of the center of a slice of whole-wheat bread. Lightly beat an egg with a splash of milk and stir in some shredded cheese and some of the vegetables leftover from last night's dinner. On a greased skillet over medium heat, pour the egg mixture into the shape and cook it until the egg is cooked through and the bread is toasted on both sides. You can butter the toast lightly when it comes off the skillet. Serve it up with a couple of turkey sausage links or slices of turkey bacon (or use egg whites and use the pork versions of the meat). Serve it with a glass of orange or apple juice.
Pancake and sausage split
Cook up a Jimmy Dean Pancakes & Sausage on a stick according to package directions and let it cool off a bit. Remove pancake and sausage intact from the stick and slice it in half lengthwise. Spread the sliced half with a small amount of natural fruit grape jelly. Serve it with a glass of milk.
Healthy cereal fake-out
Break up a brick of shredded wheat in a bowl and top it with sugar-free chocolate milk. Top it with sliced fresh strawberries and serve it with an egg or a slice or 2 of sautéed ham or Canadian bacon. You can do this with just about any healthy wheat cereal with delicious results.
Chocolate-almond-bacon crunch oatmeal
Mix a dollop of chocolate hazelnut spread, a small handful of slivered almonds and a chopped slice of crisp-cooked bacon into prepared instant oatmeal. Serve it with your favorite juice or a glass of milk.
We all scream for ice cream for breakfast
Top a whole-wheat toaster waffle with a scoop of low-sugar ice cream, then top that off with sliced fruit. For some protein, add some breakfast sausage or bacon on the side.
More tasty breakfast ideas
Sweet apple cinnamon oatmeal
Migas-stuffed peppers with baked eggs
3 Muffins stuffed with veggies