Snacks for after-school play dates
When your kids have a play date, make sure they run home and tell their mommy how amazing a time they had at your house. You can't control the kids' moods, but you can control what they eat.
Whether you want to go the healthy route or just want to dress your sweets to impress, these snacks are the perfect bites for after-school play dates.
Love bug snacks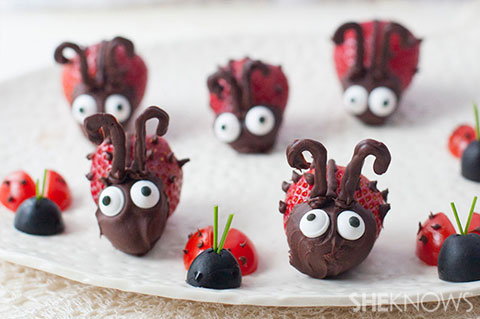 We originally created these adorable little bugs as a fun Valentine's Day idea, but they'd also make a fun way to wow the kid at your next play date. Try the tomato and olive versions for healthy veggies or the strawberry and chocolate for a sweet, fruity snack.
Baked zucchini sticks with Parmesan dip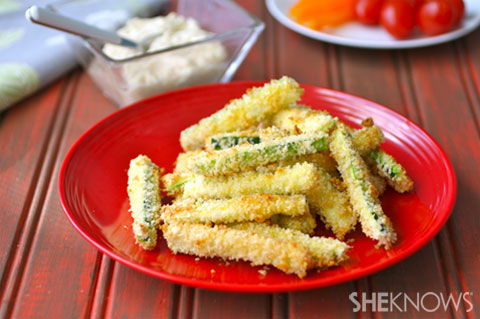 Kids love crunchy, cheesy snacks. Next time, skip the frozen cheese sticks and try these healthier baked zucchini sticks with Parmesan dip.
Cheesy pizza wheels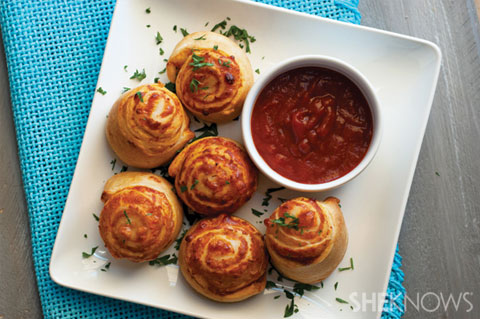 Most kids will eat pizza anytime you mention the word. Sure, those little microwave pizza bites are great, but you can do better with your own homemade cheesy pizza wheels, which let you control the ingredients.
Stuffed celery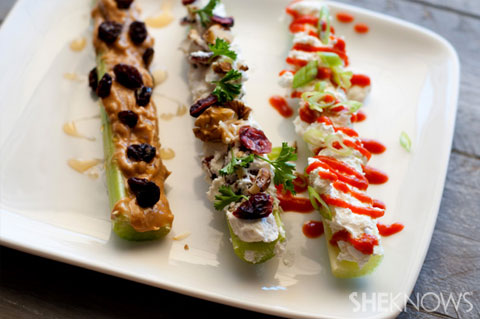 Celery is the perfect vehicle for both sweet and savory snacks because its light flavor doesn't interfere with other ingredients and its pleasing crunch complements just about everything. These three stuffed celery ideas can satisfy just about any kids. For traditionalists, go with the classic ants on a log. For more adventurous eaters, the sweet and savory stuffed celery is the key. Older kids might like the spicy buffalo-hot-wings-stuffed celery (though they prefer you don't call them play dates!).
Grab-and-go veggie cups with green goddess dip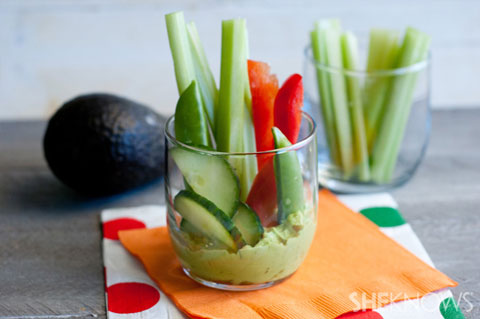 This could not be simpler to make (especially if you opt for store-bought green goddess dressing), but it looks fun and appealing. These grab-and-go veggie cups are quick to put together and will sit for a bit if the kids neglect them while playing. If your kids don't eat red bell peppers, just use strips of carrot instead.
Peanut butter banana bites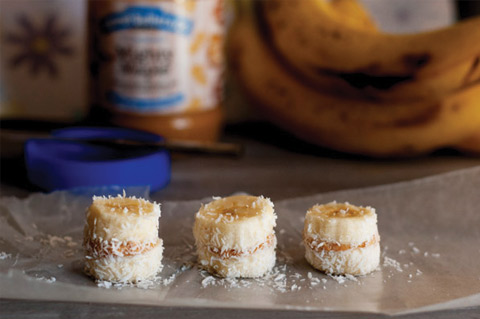 They look fancy, but peanut butter banana bites aren't. Peanut or other nut butters are sandwiched between slices of ripe banana then rolled in coconut for a healthy and delicious bite. We also think they'd be great with chocolate hazelnut spread.
Apple nachos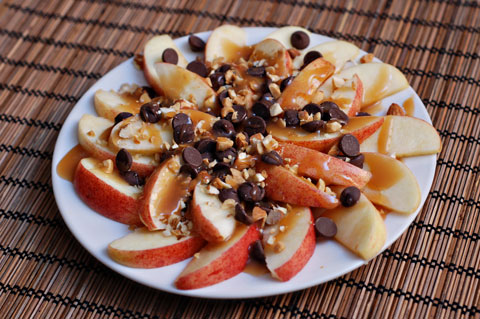 A little bit sweet and a lot healthy, apple nachos will catch your kids' attention while providing them with a less sugary (but still sweet-tooth-satisfying) after-school snack.
Fruity smoothies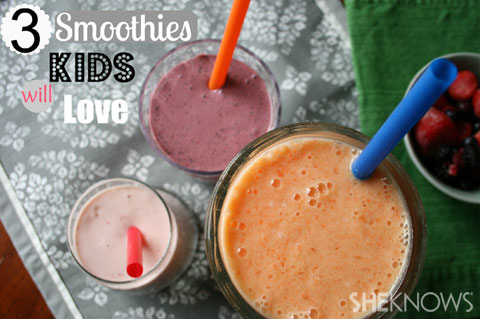 A healthy afternoon snack doesn't just mean something you eat. Smoothies can be a delicious and healthy way to tide you over until dinner. These three smoothies kids will love are our top three choices.
PB & J muffins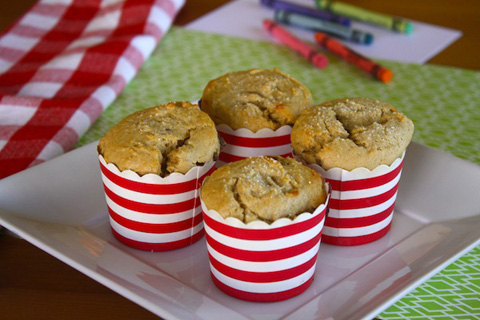 Everyone loves the classic peanut butter and jelly sandwich, but that's more lunch pail than afternoon snack. The great thing about these PB & J muffins is that you can make them ahead and stash a few away for Mom and Dad to enjoy after the kids have gone to bed.
Healthy banana split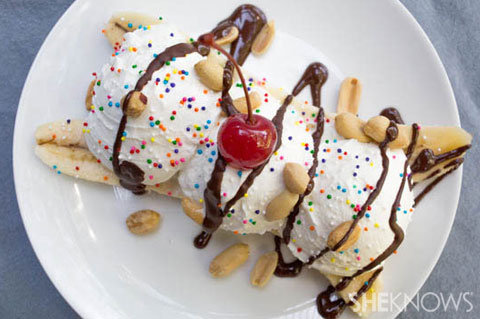 It's hard not to love a banana split, but who wants their kids to have that just a few hours before dinner? You can whip up a smaller version of this healthy banana split, using Greek yogurt instead of ice cream, or make a whole one for the kids to share. With chocolate, nuts, sprinkles and a cherry on top, they'll never know it's healthy.
More delicious snack ideas
17 Snack cracker ideas
Breakfasts that make great afternoon snacks
12 Snacks to keep in your pantry