Breakfasts that make great afternoon snacks
We all love having breakfast for dinner, but there's nothing wrong with breakfast for a snack, too. These ideas will keep you fueled up all day.
Remember when you were a kid and your mom said you were having pancakes for dinner, and you were so excited to be breaking the rules of culinary physics (which you were convinced existed back then even if you didn't call it that)? The reality is, the only thing that makes it breakfast food is the way we think about it. These often carb- and protein-loaded items are perfect for tiding you over until lunch, so why wouldn't they be the perfect mid-afternoon snack too?
Boiled eggs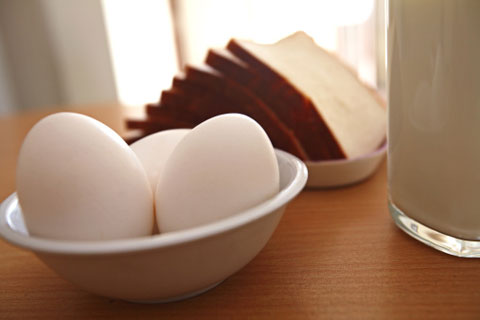 Image Credit: Visage / Stockbytes / Getty images
Next time you buy a carton of eggs, boil up three to five of them immediately and put them back in the fridge. Of course they're great additions to your breakfast or sliced up on salads, but they also pack the perfect protein punch to get your kids through that vital homework period between getting home from school and dinner.
Pancakes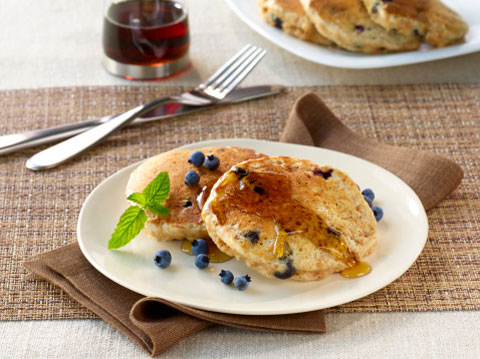 Photo credit: Brian Macdonald / Photodisc / Getty images
This weekend, surprise your family with a pancake breakfast, but don't stop there. Pancakes freeze and reheat really well, so you can individually wrap them (or just put wax paper between them in the same freezer bag), pop them in the freezer and reheat them individually for a few seconds in the microwave. If you're not a fan of just plain pancakes for a snack, stock up on Jimmy Dean Pancake and Sausage on a stick, which make equally good snacks with the added kick of protein.
Toaster pastries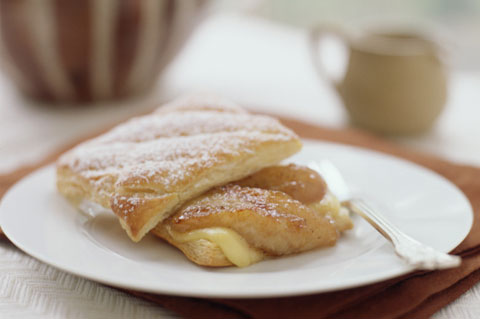 Photo credit: Brian Hagiwara/ Stockbytes / Getty images
Toaster pastries also make great afternoon snacks, but cut back on the calories by opting for the unfrosted kind. If you just can't stand the dry crust, spritz them with a little low-calorie spray butter after they come out of the toaster.
Instant hot cereal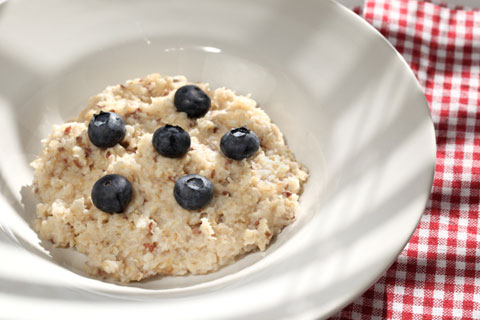 Photo credit: Lilli Day / photodisc / Getty images
Whether you like oatmeal, grits or wheat-based hot cereals for breakfast, they also make great afternoon snacks. Top them with fruit, nuts, healthy sweeteners (like agave or maple syrup) or, in the case of grits, sprinkle in a little cheese and some green onions.
Peanut butter toast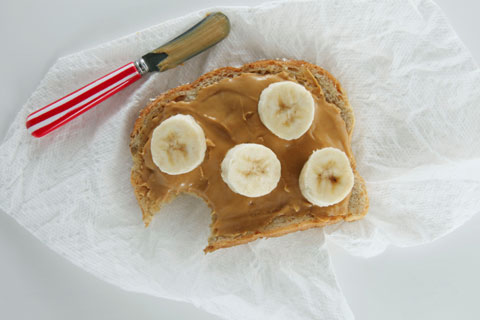 Photo credit: Shana Novak / photodisc / Getty images
A slice of toast topped with peanut butter is another great snack idea. For extra nutrients, top it with bananas or another favorite fruit.
Cream cheese bagels with bacon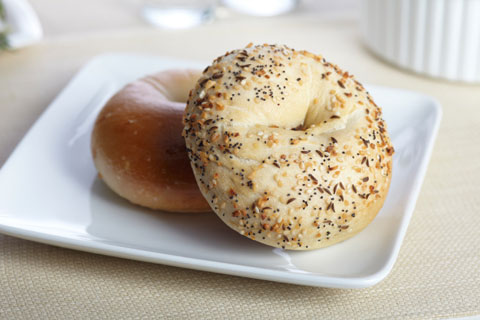 Photo credit: James And James / Stockbyte / Getty image
Toasted or untoasted, spread a half a bagel with a bit of cream cheese or Neufchatel and top it with a bit of crumbled bacon.
Breakfast burritos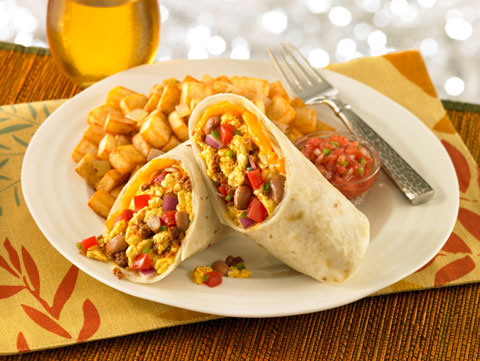 Photo credit: John E. Kelly / photodisc / Getty images
Scramble up some eggs and wrap them up in a small tortilla with some cheese, sausage or bacon and salsa for a quick and easy breakfast-themed snack.
Breakfast sandwich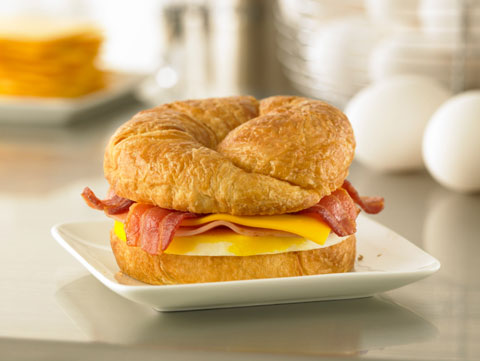 Photo credit: John E. Kelly / photodisc / Getty images
Despite what some fast-food chains would have you believe, you can eat a breakfast sandwich any time of day. Usually made with English muffins or biscuits, these petite but filling sandwiches can be made with any combination of egg, sausage, bacon, ham or Canadian bacon, your favorite sandwich veggies and more.
Toaster waffle sandwiches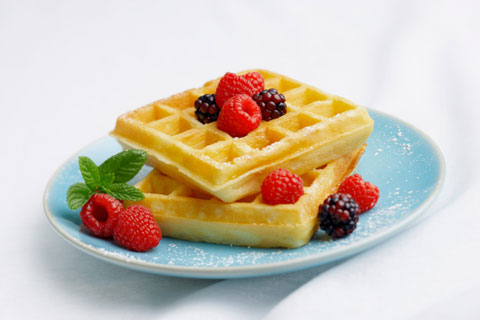 Photo credit: Lew Robertson, Brand X Pictures / Stockbyte /Getty images
Toast up a couple of toaster waffles, spread one of them with a thin layer of peanut butter or chocolate hazelnut spread and layer on some fresh fruit before topping it with the other waffle to create a quick and easy breakfast-style sandwich for a snack.
Muffins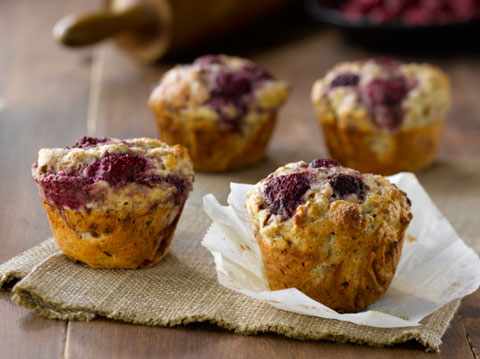 Photo credit: Brian Macdonald / Stockbyte / Getty images
Most people eat muffins for breakfast, but they make equally good afternoon snacks in moderation. Just keep in mind that muffins can be fattening, so opt for smaller or healthier versions packed with whole grains, nuts and fresh fruits.
More delicious snack ideas
17 Snack cracker ideas
Snacks for after-school play dates
12 Snacks to keep in your pantry