17 Snack cracker ideas
When we need a quick snack, crackers are always a popular choice. But if you're getting bored with the same old toppers, we have some creative ones to try instead.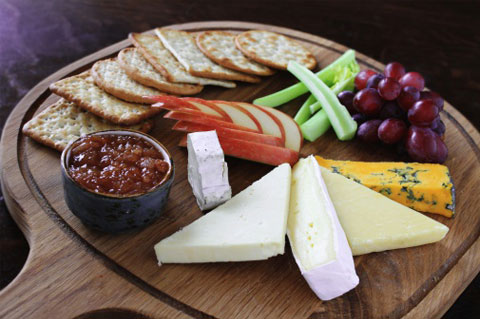 Whether you're looking for a unique snack for the kiddos or something for Mom to enjoy midday, we've got a snack cracker topper idea for you.
1. White cheddar cheese and apple slices
Granny Smith apples are our favorite for this one. Just make sure the slices are thin enough that the apple doesn't take over.
2. Broccoli and American cheese
This classic combination is just as delish atop your favorite crackers. Feel free to melt the cheese a bit if you prefer.
3. Grapes, berries and Neufchatel cheese
Spread your cracker with a bit of Neufchatel cheese, then top it with a couple of pieces of sliced green grapes and sliced blackberry or raspberry.
4. Salmon and cucumber with sour cream and chives
The key here is to take it easy on the amount of each ingredient so you can fit them all on the cracker. If you find your chives are falling off, you can mix them directly into the sour cream.
5. Peanut butter and maple syrup
Mix some reduced-fat peanut butter with a bit of real maple syrup as a sweet but filling treat.
6. Egg, tuna or chicken salad
Mix some chopped egg, packaged tuna or chicken with some light or olive oil mayo, a bit of chopped onion and pickle and season to taste for a crunchier way to enjoy your protein salads.
7. Fresh Mediterranean flavors
Smear some herbed cream or goat cheese on the cracker and top it with a leaf of fresh basil, sliced cherry tomatoes and/or sliced kalamata olives.
8. Almond butter and grapes
Almond butter and sliced red grapes make a tasty and healthy ode to the classic PB&J.
9. Port wine cheese with sliced roast beef
You can use deli or leftover roast beef for this delicious combo.
10. Avocado and bacon
Smashed avocado with salty turkey bacon are a match made in culinary heaven.
11. Summer sausage and smoked gouda and mustard
If you can find turkey summer sausage, we prefer that with gouda, but either is nice. Top it with a small dollop of Dijon mustard and you're good to go.
12. Cream cheese, dill and cracked pepper
After smearing some crackers with cream cheese, sprinkle on a little dill and freshly cracked black pepper for a simple but satisfying snack.
13. Chocolate hazelnut spread and fresh berries
Any berry you like with chocolate can be sliced up and put on top of a chocolate hazelnut spread-topped cracker.
14. Herb-sprinkled cottage cheese
Just about any herb tastes good with the clean, subtle flavor of cottage cheese. We like dill, Italian seasoning and salt-free seasoning blends.
15. Eggs and bacon
If you're looking for a mid-morning snack, top your crackers with a small slice of bacon and a sliver of boiled egg.
16. Peanut butter, banana and chocolate sauce
This is a great go-to cracker topper for those evenings when you know dinner is just going to be a bit later than usual. The peanut butter's protein will hold you over, the potassium from the banana will help stave off fatigue and chocolate is actually recommended by LiveStrong instead of energy drinks and coffee for boosting energy.
17. Roast beef, horseradish and blue cheese
Sometimes, Mom needs a snack that's a little more adult. Top a cracker with a little horseradish spread, some blue cheese and a bit of roast beef.
More delicious snack ideas
Snacks for after-school play dates
Breakfasts that make great afternoon snacks
12 Snacks to keep in your pantry
Photo credit: Neil Langan Uk/ Stockbyte / Getty images