Flourless peanut butter bars
Flourless peanut butter bars have just a few ingredients that pack a serious flavor punch. These cookies are so dense and rich you'll be fine sharing them with others!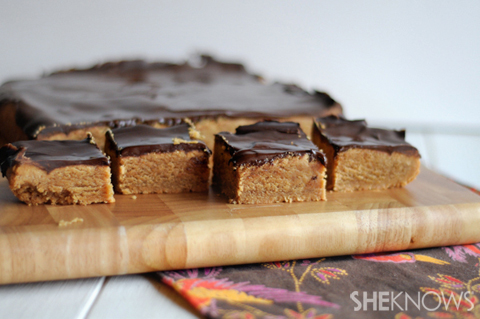 Flourless peanut butter bars
Serves 16
Ingredients:
2 cups smooth peanut butter
2 cups granulated sugar
2 whole large eggs
1 teaspoon vanilla extract
2 cups semisweet chocolate chips
Directions:
Preheat oven to 350 degrees F.
Line a 9 x 9-inch pan with foil and set aside.
In a bowl, cream together all ingredients until well combined.
Press the dough into the prepared pan and smooth the top.
Bake at 350 degrees F for 25 to 30 minutes until golden on the sides.
Pull the pan out of the oven and pour the chocolate chips on top in an even layer.
Return to the hot oven for 90 seconds, then remove and spread the chocolate into a smooth layer on top.
Allow to cool completely before cutting and serving.
More amazingly delicious peanut butter desserts
Reese's Peanut Butter Cup stuffed cookies
Frozen banana peanut butter guilt-free ice cream
Peanut butter Oreo stuffed brownies