Spinach, bacon and Brie croissant rolls
Spinach, bacon and Brie rolls take savory rolls to a whole new level. Earthy spinach, salty bacon and creamy Brie are sure to make this recipe a favorite for future gatherings!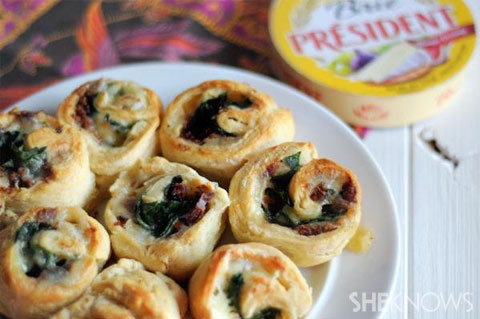 Spinach, bacon and Brie croissant rolls
Serves 8
Ingredients:
1 package store-bought crescent roll dough
6 ounces Brie cheese
4 slices bacon, crisped and crumbled
2 cups fresh baby spinach, washed and dried
Directions:
Preheat oven to 375 degrees F.
On a large baking sheet lined with parchment paper, unroll all of the crescent roll dough.
Pinch together the seams of the crescent dough.
Slice the Brie into thin slices and evenly lay the cheese all over the dough.
Sprinkle the bacon on top of the cheese.
Evenly spread the spinach over the bacon and cheese.
Starting on 1 of the longer sides of the rectangle, gently roll toward the other side, being sure to keep all of the ingredients in the dough.
Slice into 8 sections.
Place the rolls cut-side-up in a lightly greased 8-inch round cake pan.
Bake at 375 degrees F for 10 minutes, or until the dough is golden and crispy.
Remove from the oven and allow to sit for about 5 minutes before serving.
Serve hot.
More fabulous roll recipes
Bacon-stuffed cinnamon rolls
Crab and cream cheese crescent rolls
Nutella rolls