Dinner Shortcuts: Meatball and spaghetti soup
Spaghetti and meatballs aren't just for your plate. This tasty dish has been transformed into a simple and quick soup.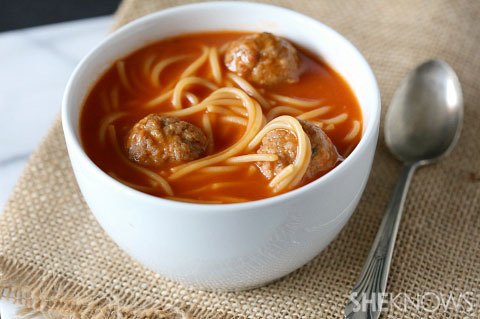 Soup is a favorite around my house during the winter. It's hearty, delicious and perfect for cold winter nights. This quick and easy recipe can be ready in under 30 minutes and is sure to make the whole family happy. Serve plain or with a sprinkle of Parmesan cheese. The choice is yours.
Meatball and spaghetti soup
Slightly adapted from Betty Crocker
Yields 4 servings
Ingredients:
4 cups water
4 ounces uncooked spaghetti, broken in half
20 mini Italian seasoned frozen meatballs
1 (28 ounce) jar tomato and basil sauce
1/2 teaspoon Italian seasoning
1/2 teaspoon garlic powder
Parmesan cheese, optional
Directions:
Fill a large pot with water and set over high heat. Bring to a boil and add in pasta and meatballs.
Boil for about 10 minutes until the pasta is tender and the meatballs are warmed.
Do not drain and add in tomato sauce and spices. Gently simmer until fully warmed.
Serve with a sprinkling of Parmesan cheese if desired.
More Dinner Shortcuts recipes
Slow cooker cranberry sweet and spicy meatball recipe
Cheesy crescent dog recipe
Smoky kielbasa with peppers and onion recipe