Healthy zucchini pizza bites
Fresh zucchini is sliced into rounds and topped with tomato sauce and cheese. Baked just until soft, the zucchini makes an excellent little kid-friendly crust that makes moms smile.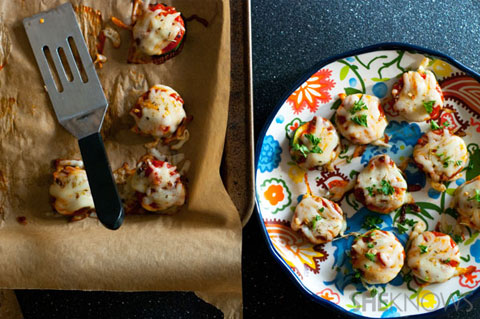 Let's face it — everyone loves pizza but it isn't exactly the healthiest thing. Trying to get picky eaters to get in their vegetables can be quite a task, but once they try these zucchini pizza bites that might just change! Here I ditched the dough and used fresh zucchini slices as my "crust." I topped ours off with tomato sauce and cheese but feel free to add pizza toppings until your heart is content. This is super easy and surprisingly delicious!
Healthy zucchini pizza bites recipe
Yields 18-20 bites
Ingredients:
2-3 large zucchini
1 cup tomato or pizza sauce
1 cup shredded mozzarella cheese
Fresh herbs for garnish (optional)
Directions:
Line a large baking sheet with parchment and preheat oven to 350 degrees F.
Wash and dry the zucchini. Using a knife, slice each zucchini into 1/2-inch rounds and place on the baking sheet.
Top each zucchini with tomato sauce and a sprinkle of cheese. Bake uncovered for 10 minutes or until the zucchini is just slightly softened (you don't want to over bake or it will become soggy).
Garnish with fresh herbs and serve warm.
More recipes using zucchini
Raw zucchini noodles with creamy avocado sauce
Healthy zucchini fries
Zucchini parmigiana