Easy one-dish chicken fajitas
Organic chicken breast, fajita seasonings, peppers and onions are all baked up in one dish for the simplest fajitas ever!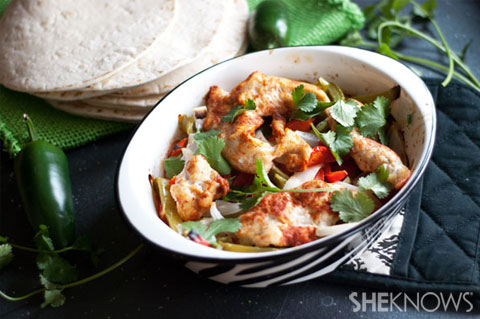 With a family, dinner can be very chaotic around here. I need healthy recipes to get on the table and I need them fast! This one-dish chicken fajita is ideal for anyone short on time or for someone who likes making their meals ahead of time. I used organic chicken breast and vegetables and tossed them with seasonings and baked it all in one single dish! While delicious served in traditional tortillas with lots of toppings, this also goes great over rice, quinoa or greens to make a salad.
Easy one-dish chicken fajitas recipe
Serves 4-6
Ingredients:
4 organic boneless, skinless chicken breasts, diced or cut into chunks
1 red bell pepper, sliced
1 green bell pepper, sliced
1 red onion, sliced
1 envelope of fajita seasoning
Tortillas or cooked rice for serving
Directions:
Preheat oven to 375 degrees F and spray a medium-sized casserole dish with cooking spray.
In a large bowl, add the chicken, vegetables and the fajita seasoning. Using tongs or your hands, toss well making sure everything is coated evenly.
Pour the fajitas into the baking dish and bake for 30 minutes or until the chicken is completely cooked.
Serve the fajitas over cooked rice or stuffed into warmed tortillas.
More Mexican-inspired recipes
Chicken taco pitas
Summer veggie tacos with avocado sauce
Super loaded barbecue nachos