Heart-shaped cake batter waffles
Valentine's Day was always a big holiday when I was growing up. My grandparents would host a big brunch and my mom would make us fun heart-shaped treats like pink pancakes or heart-shaped eggs. As a kid, eating those fun heart-shaped goodies was the highlight of my day, which is why I'm carrying on the tradition with these cake batter waffles!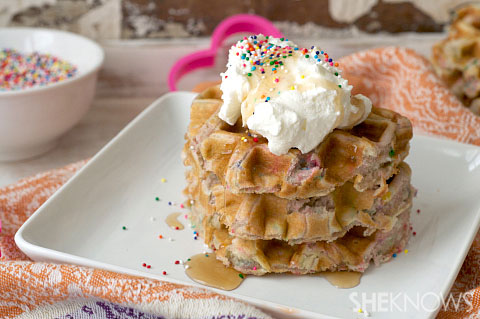 These funfetti waffles are made with real cake mix, so each bite tastes like a big slice of cake. And honestly, what's better than cake for breakfast? Oh I'll tell you, cake topped with homemade whipped cream, of course!
Heart-shaped cake batter waffles
Yields about 6 heart waffles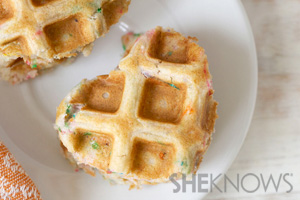 Ingredients: 
1-1/2 cups flour
1/3 cup funfetti cake mix
3 teaspoons baking powder
2 tablespoons sugar
1 cup milk
1/4 cup heavy cream
1 large egg, room temperature
2 tablespoons canola oil
1 teaspoon vanilla extract
2 tablespoons nonpareil sprinkles
1-1/3 cups freshly whipped cream
Sprinkles
Directions: 
Preheat a large waffle iron and spray with nonstick cooking spray.
In a large bowl, whisk the flour, cake mix, baking powder and sugar together. Make a well in the center and stir in the milk, cream, egg, canola oil and vanilla extract. Stir to combine. Add sprinkles and fold in gently.
Pour about 1/2 cup of waffle batter into the prepared pan and cook until the waffle iron beeps, or until golden brown. Using a heart-shaped cookie cutter, stamp out heart shapes.
Garnish the waffles with whipped cream and sprinkles.
More cake batter recipes
Cake batter brownies recipe
Vegan cake batter ice cream
Cake batter chocolate chip cookies