Modern Mom: Signs your child may have an eating disorder
Eating disorders are life-threatening diseases that affect both children and adults. Here are some signs your child may be developing one.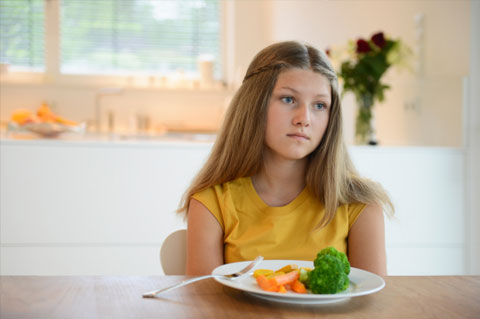 The Agency for Healthcare Research and Quality conducted a study and found that hospitalizations for eating disorders in kids increased 119 percent between 1999 and 2006. Children as young as 5 are worried about being fat. In a society where physical appearance and weight have become an obsession, what can moms do to spot, and possibly prevent, eating disorders in their kids?
Types of eating disorders
The two main types of eating disorders are anorexia (severely restricting calories) and bulimia (the process of binging and purging or using laxatives). There are other, more rare forms of eating disorders too, such as orthorexia (obsession with eating healthy) and compulsive exercising.
Who is at risk?
Eating disorders stem from a need to feel in control of one's life. Children who regularly diet are at a higher risk, along with those who have experienced divorce or abuse. Eating disorder victims tend to be perfectionists, high strung, anxious and hard working. Those who suffer from bulimia tend to be more impulsive and have a hard time trusting others.
Signs your child may have an eating disorder
As a parent, it's important to be involved in all areas of your child's life, without suffocating them. Making sure they do well in school is just as important as keeping an eye on their eating habits and self-esteem. According to the University of Michigan Health System, signs to look for include:
Fear of being fat
Limiting eating or never finishing a meal
Distorted body image
Changes in weight
Depression or social withdrawal
Dry skin
Always feeling cold
Wearing baggy clothes to hide weight loss
What can you do?
Encourage healthy eating from an early age. I'm a mother to two daughters, both currently under the age of 2. While right now I don't have anything to worry about, my husband and I have committed to raising our daughters with a healthy view of food. We're going to lead by example — not skip meals, keep healthy food in the house, no extreme dieting and limiting sweets.
Promote high self-esteem. Let your child know often that you're proud of them. Recognize their special talents and accomplishments. Compliment them regularly. Also, don't be critical of your own body weight or appearance. Always keep a positive self-image around your child.
Talk to your child. If you suspect a problem, approach your child in a calm, loving way. Though they may deny anything's wrong, let them know that you're concerned and that you love them.
Get professional help. Eating disorders can cause dozens of health problems, such as anemia, osteoporosis, heart attack and high blood pressure. Speak with your child's doctor as soon as you suspect a problem.
For more information on helping someone with an eating disorder, click here >>
More Modern Mom
Modern Mom: Teaching kids table manners
Modern Mom: Food and recipe ideas for toddlers
Modern Mom: What's the difference between organic and natural?
Image Credit: Altrendo images / Stockbyte / Getty.com