Carrot cake bars with Greek yogurt frosting
Carrot cake bars with Greek yogurt frosting are a dessert you can happily serve any guest or family member. The Greek yogurt frosting adds a little extra protein to make these super simple bars just a little more filling!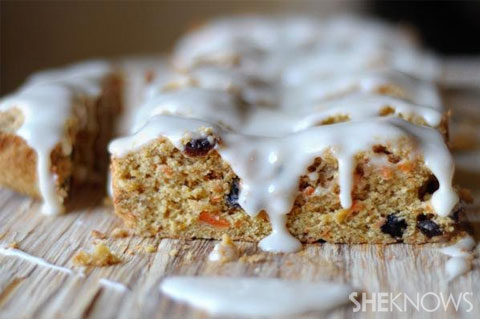 Carrot cake bars with Greek yogurt frosting
Serves 8
Ingredients:
1/2 cup butter
1/2 cup brown sugar
1 whole egg
1 teaspoon vanilla extract
1/2 cup shredded carrot
1/3 cup raisins
1/3 cup chopped pecans, optional
1-1/2 cups flour
3/4 teaspoon ground cinnamon
1/2 teaspoon baking powder
1/4 teaspoon baking soda
Pinch of salt
2 tablespoons plain Greek yogurt
1/2 teaspoon vanilla extract
3 cups powdered sugar
Directions:
Preheat oven to 375 degrees F.
Line a 9 x 5-inch loaf pan with foil and spray with nonstick spray.
In a bowl, cream together the butter and sugar until light and fluffy.
Add the egg and vanilla and mix until well combined.
Sift the flour, cinnamon, baking powder, baking soda and salt into the wet ingredients. Mix until just combined.
Add the shredded carrots and raisins and mix until evenly distributed.
Spread the batter evenly into the bottom of the prepared pan.
Bake for 20 to 25 minutes until a toothpick inserted comes out clean.
Let cool completely before frosting.
When the bars have cooled completely, whisk together the Greek yogurt and vanilla until smooth.
Sift in the powdered sugar and mix until all of the powdered sugar is incorporated.
Drizzle and press evenly over the cooled bars, then cut into servings.
Store remaining bars in the refrigerator.
More carrot cake recipes
Carrot cake pancakes
No-bake carrot cake energy bites
Easy carrot cake oatmeal