Saltine cracker toffee
The secret saltine cracker ingredient might sound odd but trust us. It creates a crunchy toffee candy treat that will be sure to impress.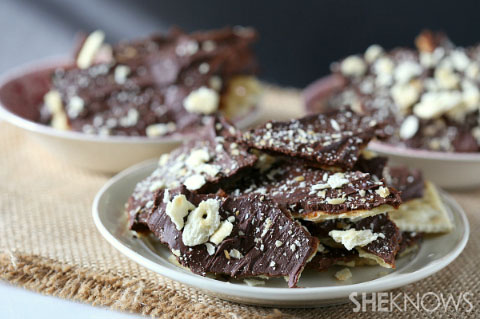 Toffee is one of my favorite candy treats. But this time things are a little different. Yes it's still full of butter and brown sugar but this time there is a secret cracker ingredient. This candy treat is the perfect fix to your sweet tooth and is a breeze to throw together.
Saltine cracker toffee
Yields 1 sheet pan
Ingredients:
2 sleeves saltine crackers
8 ounces unsalted butter
1 cup dark brown sugar
2 cups dark chocolate chips
Directions:
Preheat oven to 400 degrees F and line a rimmed baking sheet with a Silpat liner or parchment paper.
Lay out saltine crackers onto the prepared baking sheet, making sure that the crackers are close together.
In a small pot over medium heat, add butter and brown sugar. Bring to a boil and boil for 3 minutes.
Pour butter/brown sugar mixture over the saltine crackers, spread with a silicone spatula (as best as you can) and add to the oven.
Bake for 5 minutes and remove from the oven.
Sprinkle the top of the candy with chocolate chips and let sit for 5 minutes. Spread the chocolate chips across the candy. Optional: Crush additional crackers over the top.
Let the candy harden for 30 minutes and then break into pieces.
More dessert recipes
Cranberry turtle bars recipe
Heart-shaped brownie recipe
Red velvet puppy chow recipe