Pink layered Valentine's Day parfait
This parfait has sweet pink layers of pudding, whipped cream and freshly chopped berries. This is a perfectly pink Valentine's Day treat.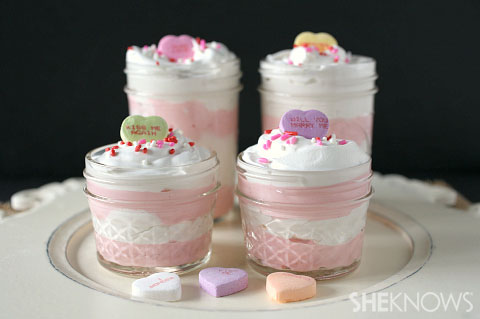 Valentine's Day is the perfect time to whip up a bunch of sweet treats. These parfaits are layered with sweet vanilla, strawberry and cream flavor. I made a delicious homemade vanilla bean pudding and then mixed it with a little pink coloring and finely diced strawberries. If pudding isn't your thing, you could also use colored yogurt.
Pink layered Valentine's Day parfait
Yields 4 parfaits
Ingredients:
1/3 cup sugar
1/4 cup cornstarch
Pinch kosher salt
2-3/4 cups cold whole milk
2 tablespoons unsalted butter
1 teaspoon vanilla bean paste (or extract)
1/3 cup finely diced strawberries
3 drops pink food coloring
Cool Whip
Sprinkles or candy hearts for decorating (optional) 
Directions:
In a medium-sized pot, add sugar, cornstarch and salt, and mix together. Slowly whisk in cold milk until the mixture is somewhat smooth.
Add the pan to medium heat and stir until it reaches a boil.
Once it reaches a boil, stir constantly for 1 minute.
Remove from the heat once it has boiled and the pudding is thick. Stir in butter and vanilla bean paste.
Let the pudding cool and thicken.
Once the pudding is cool, stir in strawberries and food coloring.
Using 4 smaller-sized parfait or Mason jars, layer in equal amounts of Cool Whip and pudding mixture, making sure to end with Cool Whip.
Top the parfait with candy hearts or sprinkles.
More parfait recipes
Apple quinoa parfait recipe
Peach Melba parfait recipe
Persimmon and yogurt parfait recipe