Valentine's Day egg in a hole
Start your Valentine's Day morning off with a heart-shaped breakfast dish. A simple egg in a hole meal turns romantic when we make it heart shaped.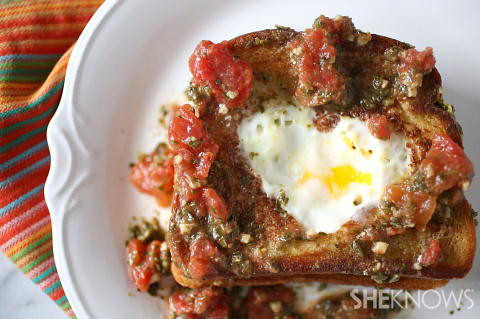 Normally I think of fancy dinner when I think of Valentine's Day. However, this year I decided to change things up. Instead of taking all that energy into making dinner I made breakfast. I had the kids help me with cutting out the hearts and I did the cooking. Plus the kids got into the spirit by helping set the table and serving their very own Valentine's Day creation.
Valentine's Day egg in a hole
Yields 2 servings
Ingredients:
2 thick slices bread
4 tablespoons butter
2 eggs
1/2 cup diced tomatoes
1/4 cup pesto
1/2 teaspoon minced garlic
Directions:
Using a medium-sized heart cookie cutter, cut out the middle of each slice of bread.
In a large skillet, add 2 tablespoons butter and let melt over medium heat.
Once the butter is fully melted, add both slices of bread and crack the egg into the heart. Gently cook until the underside is browned and gently flip. Cook until the underside is browned and the egg is fully cooked.
Add bread to a plate and quickly cook your tomato and pesto mixture.
Add remaining butter to the skillet, let melt and add in tomatoes, garlic and pesto. Quickly sauté for 3 minutes until the tomatoes are soft and the garlic is fragrant.
Spoon tomato mixture over the toast and serve warm.
More breakfast recipes
Bacon and chocolate pancakes recipe
Make-ahead freezer breakfast sandwich recipe
Bananas foster French toast recipe