Strawberry shortcake Rice Krispies treats
Strawberry shortcake is not just a simple summer dessert. We took all that flavor and turned it into a crunchy Rice Krispies treat.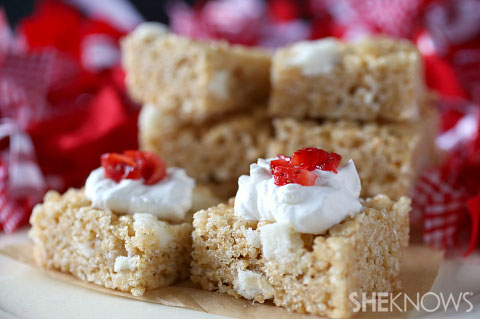 Normally I think of strawberries as a summertime fruit. However, during the winter there is a crop of strawberries that gets shipped in from Florida and my heart literally skips a beat. I love strawberries and the fact that I can get them fresh in the middle of the winter brings a smile to my face. I mixed these simple Rice Krispies treats with angel food cake and then topped them with creamy whipped cream and sweet diced strawberries. You will love these babies!
Strawberry shortcake Rice Krispies treats
Yields contents of 8 x 8-inch pan
Ingredients: 
3 cups Rice Krispies cereal
1 cup chopped angel food cake
3 tablespoons butter
3 cups mini marshmallows
2 teaspoons vanilla paste (or extract)
1/2 cup whipped cream
1/3 cup finely diced strawberries
Directions:
In a medium-sized bowl, mix together cereal and cake, and set aside.
Line an 8 x 8-inch pan with parchment paper, and set aside.
In a large skillet over medium heat, add butter and melt.
Once the butter is melted, add in marshmallows and stir until smooth and the marshmallows are melted.
Add in vanilla paste and stir.
Add in cereal/cake mixture and stir.
Work quickly and add the cereal/marshmallow mixture to the prepared pan and press into the pan.
Once the bars are cooled, remove them from the pan and slice into squares.
Top each square with a little whipped cream and a spoonful of strawberries.
More Rice Krispies recipes
Funfetti conversation heart Rice Krispies treat recipe
4th of July Rice Krispies treat recipe
Christmas coal Rice Krispies recipe