4-Cheese baked ziti with basil
Ziti pasta and tangy tomato sauce are blended with four rich and creamy cheeses. Baked until golden brown, this dish will be a new favorite in your weekly dinner rotation.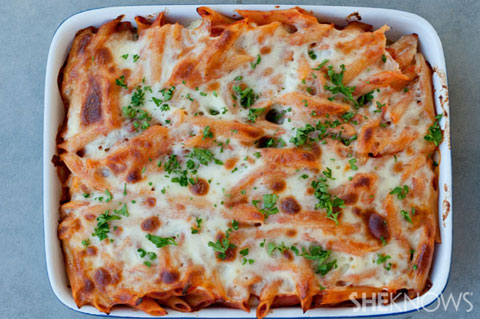 Who doesn't love good Italian food? I know we do and we make it often since it is so easy and very versatile. Instead of using sausage which is in many baked ziti dishes, I opted to use a variety of cheeses to give it texture and to add creaminess to this dish. This pasta pairs perfectly with a big green salad and a nice glass of wine.
4-Cheese baked ziti with basil recipe
Yields 6 servings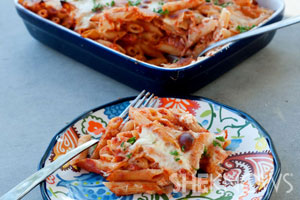 Ingredients:
1 pound (16 ounce box) ziti pasta, cooked as directed on box
4 cups pasta sauce
1 tablespoon dried Italian herbs
1 tablespoon garlic powder
Salt and pepper to taste
1 cup shredded mozzarella cheese
1 cup grated Parmesan cheese
1 cup grated Romano cheese
1/2 cup fresh ricotta cheese
Fresh basil leaves very finely chopped as garnish (optional)
Directions:
Preheat oven to 375 degrees F. Spray a large baking dish with nonstick cooking spray.
In a very large mixing bowl, add the cooked ziti pasta, the tomato sauce and the seasonings mixing very well.
Scoop enough of the pasta into the casserole dish to cover the bottom. To the pasta, add 1/2 cup each of the mozzarella, Parmesan and Romano cheeses. Using a spoon, drop spoonfuls of the ricotta cheese over the top and cover with remaining pasta.
Top with the remaining mozzarella, Parmesan and Romano cheeses and bake uncovered for 30 minutes or until golden brown. Remove from the oven and garnish with fresh basil if desired. Serve immediately.
More baked pasta dishes
Baked pasta with sriracha cream sauce
Baked pasta in eggplant crust
Vegetable and pasta bake