Mini heart-shaped pizzas
These adorable mini heart-inspired pizzas are the perfect Valentine's recipe for your kids to make. Roll out the dough, top and bake. Simple, easy and made with love.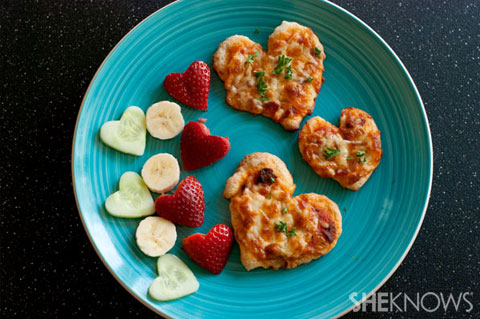 Make a sweet and easy family dinner for a Valentine's Day night in. We all love pizza — especially kids! These Valentine's Day-inspired pizzas are quick and simple for Mom since you can let your kids prepare them all by themselves. Set out bowls filled with cheeses, toppings and sauce for your kids to decorate with.
Mini heart-shaped pizzas recipe
Yields 6-8 mini pizzas depending on size
Ingredients:
1 ball fresh pizza dough (store-bought or homemade)
1 cup pizza sauce
1-1/2 cups shredded mozzarella cheese
Fresh basil for garnish
Directions:
Preheat oven to 375 degrees F and line a large baking sheet with parchment paper.
On a floured surface, roll the dough out to about 1/4-inch thickness. Using a heart-shaped cookie cutter, begin cutting hearts out from the dough and place on the baking sheet.
Spoon the pizza sauce over the tops of each heart and top with shredded cheese. Bake for 10 to 12 minutes or until the pizzas are golden brown.
Remove from oven and garnish with fresh basil if desired. Best served warm.
More Valentine-inspired recipes
Valentine's Day hot chocolate shots
Sexy Valentine's Day cocktails
Valentine's Day cherry chocolate vodka supreme