Honey and herb Cornish game hens
Valentine's Day isn't just for adults, you know. I loved when my mom made a really special dinner for us kids. It really made us feel like we were one of the grown ups. Give your kids the same feeling of love by making them a gourmet dinner with these honey and herb Cornish hens!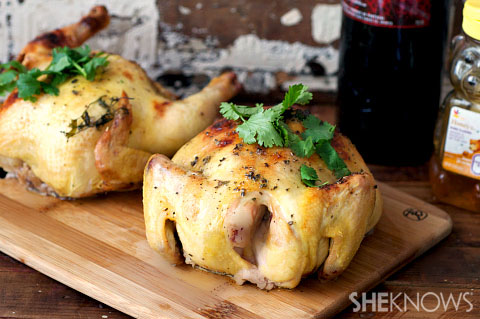 Cornish game hens are great holiday entrees for kids because they are perfect for their small hands. These honey and herb hens are sweet with just the right amount of savory and will make your kids' Valentine's Day dinner one to remember.
Honey and herb Cornish game hens
Serves about 4
Ingredients: 
2 (1-1/2 pound) Cornish game hens
2 tablespoons vegetable oil
3 tablespoons honey
4 teaspoons chopped herbs (we used basil and oregano, plus cilantro for garnish)
1 lemon, cut in half
2 tablespoons butter
Salt and pepper to taste
Directions:
Rinse and pat the hens dry. Remove the giblets and toss (or save for later).
Preheat oven to 400 degrees F.
In a small bowl, whisk the honey, oil and herbs together. Squeeze 1/2 of the lemon into the mixture and whisk to combine.
Season the hens liberally with salt and pepper. Place in a roasting pan. Using a pastry brush, brush 1/2 honey and lemon mixture over the hens. Stuff the insides with the lemons and butter.
Bake for about 30 minutes. Flip the hens and brush with honey mixture and bake another 25 minutes, or until golden brown. Serve each hen with more fresh herbs.
More Valentine's Day recipes for kids
Show your love with heart-shaped pizza
Valentine's Day family dinner menu
Kid-friendly Valentine's Day recipes