Fluffy chocolate mousse with raspberry cream
Kids aren't always very easy to please when it comes to food. In most households, you have to make one dinner for them and one for you, and most likely the same goes for dessert. So instead, why not whip up a dessert both the kids and adults will love?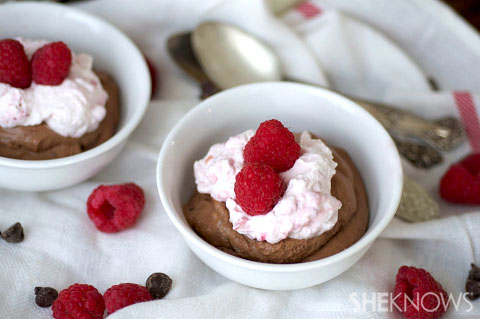 This fluffy mousse topped with sweet raspberry cream is hands down the best dessert you can make for any Valentine's Day celebration. It's so soft, fluffy and decadent, your kids will ask for doubles (or triples!) so you'll probably want to make quite a bit.
Fluffy chocolate mousse with raspberry cream
Recipes inspired by All Recipes
Serves 4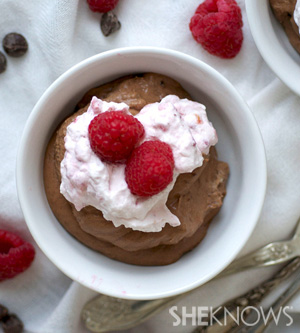 Ingredients: 
For the mousse: 
1/2 cup semisweet chocolate chips
2 tablespoons Kahlua (or coffee extract)
2 egg yolks, lightly beaten
3 teaspoons pure vanilla extract
1 cup heavy whipping cream
2 tablespoons white sugar
For the raspberry cream: 
1/2 cup fresh raspberries
1/2 tablespoon white sugar
1/2 cup heavy cream
1/4 teaspoon white vanilla extract
Directions: 
Place the chocolate chips and Kahlua in a medium-size saucepan over medium heat. Whisk the mixture until smooth, about 5 minutes. Carefully stir the egg yolks into the chocolate mix and add back to the heat.
Cook, whisking constantly, until mixture is thickened. Meanwhile, beat the heavy whipping cream, sugar and vanilla in a large metal bowl. Beat until thick and fluffy. Fold the whipped cream into the chocolate mix and pour into a bowl. Cover with Saran wrap and chill for at least 2 hours.
While the chocolate chills, prepare the whipped cream by beating the heavy cream, sugar and vanilla together. Before the whipped cream is fully finished, beat in the raspberries.
Serve the mousse in 4 small ramekins and top with raspberry cream. Garnish with more fresh raspberries.
More chocolate recipes
3 Easy low-fat chocolate desserts
Homemade milk chocolate heart candy recipe
Chocolate-stuffed raspberries recipe