10 Mardi Gras party snack ideas for kids
Start your party off with Fat Tuesday treats that the whole family can enjoy!
From mouth-watering mini muffulettas to Green Gator's Blood mocktails, these creative twists on traditional Cajun fare will make for a celebration fit for a king! Check out these family-friendly recipes.
Mini muffuletta sandwiches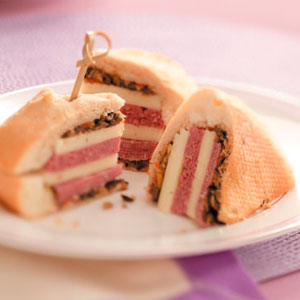 This make-ahead mini muffuletta sandwich recipe from Taste of Home is a must at a Mardi Gras gathering and will satisfy guests of all ages.
Cheddar cheese straws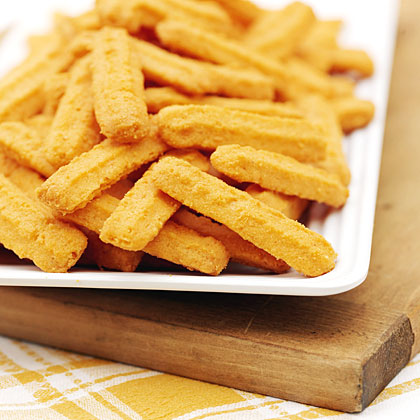 Kids and adults alike will enjoy these tasty homemade cheddar cheese straws, so make a bunch… they're sure to go quick! Get the recipe.
Mardi Gras cupcakes with cinnamon frosting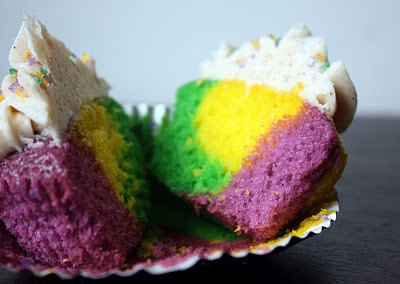 Delight guests with these homemade colorful treats. These festive Mardi Gras cupcakes from Erica's Sweet Tooth call for a box of yellow cake mix, so your baking time is cut down with a handy shortcut.
Green gator's blood mocktail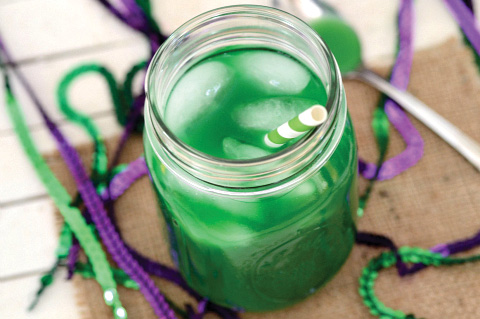 Little hands will be reaching for more of this green Gator's Blood Mocktail. They're simple to make with just three ingredients: peach nectar, simple syrup and food coloring! Get the recipe.
Mardi Gras pretzels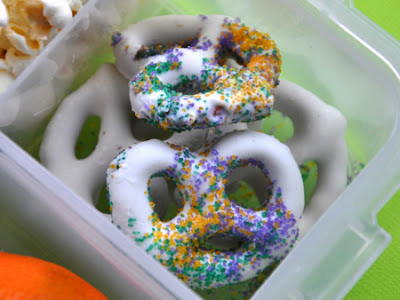 Dress up boring party pretzels with some festive color with these sugared yogurt-dipped pretzels. Check out Benton Better Lunches for more creative Mardi Gras inspiration.
Fruit and cheese dunkers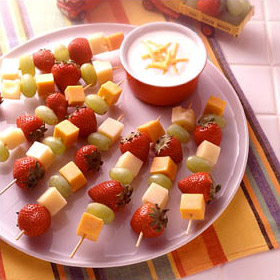 Fun to make and fun to eat, these fruit and cheese dunkers are a hit at any party. Bonus: any leftovers from your party are great for kids' lunches the next day!
King cake jelly shots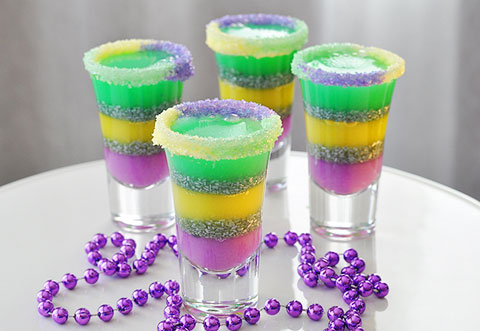 Who could pass up one of these incredibly festive King Cake Jelly Shots from Tablespoon? Serve 'em up as a centerpiece at the adult table.
*Note: The recipe calls for vodka, so this special treat is just for moms and dads!
Crown cookies with skittles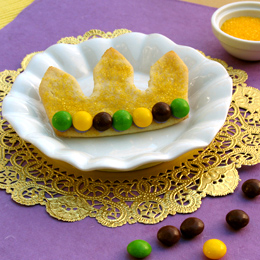 Enlist your kids to give you a hand with these sweet party treats. You take care of the baking, while they decorate with purple, yellow and green Skittles. Get the recipe and let the fun begin!
Virgin frozen raspberry margarita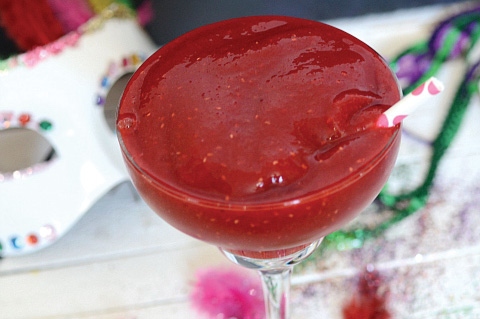 Adults and kids will both love this refreshing treat that calls for real frozen raspberries. Serve them up in green plastic cups, and offer a variety of silly straws for the kids! Get the recipe.
Fruit Loops necklace party favors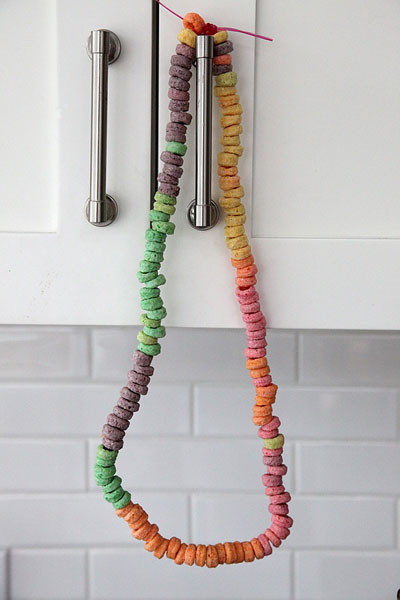 Send the kiddos home with a party favor fit for a king! These Fruit Loops necklace party favors from 8FootSix are fun to make, and will send them off with a fun token from your memorable gathering.
More Mardi Gras party recipes
Best gumbo recipes for Mardi Gras
Delicious King Cake recipe
Mardi Gras cocktail recipes