15 Snacks that are almost too cute to eat
Thanks to the creative Pinspiration that seems to get even more clever by the day, your mind is probably swimming with new recipe ideas to try at your next get-together.
We've compiled a few of our favorite snack ideas below that are almost too cute to eat — give them a whirl!
Pizza crescent wheels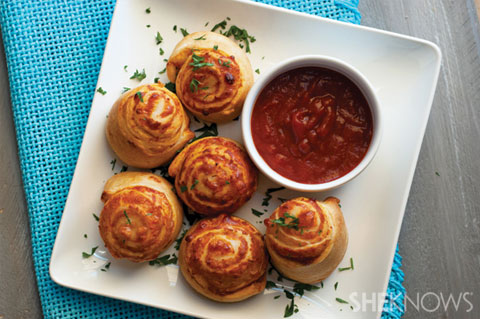 Rolled up, cut into rounds and baked, these fun and simple cheesy pizza wheels are the perfect snack for kids. Get the easy recipe.
Fruit slice sammies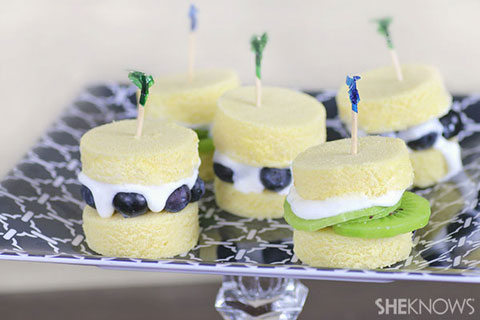 These dainty fruit bites are perfect for a midday energy boost or healthy after-school snack. Recruit the kids to lend a hand! Get the recipe.
Cream cheese owl treats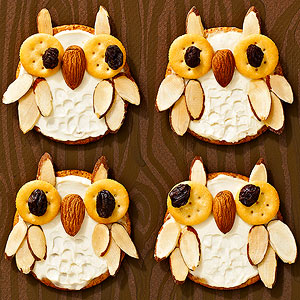 Enlist your kids' help to create these adorable cream cheese owl treats from Parents.com. They combine cream cheese, crackers, fruit and nuts for an energy-packed photo-worthy snack.
Trix on stix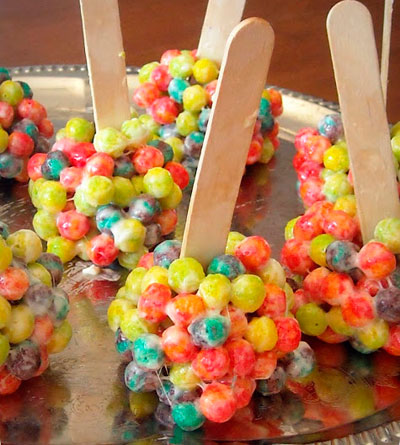 Be a hero at your kids' next party or bake sale with this clever twist on the average ol' Rice Crispy treat. KeepHomeSimple offers a colorful snack on a stick, fit for any party.
Tiny taco cups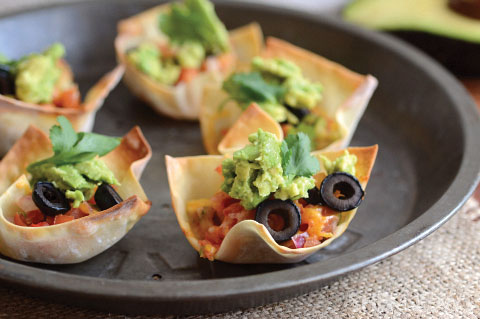 Before a big game, or to hold the kids over before dinner, these tiny taco cups can be prepped with a variety of toppings to keep them on their toes every time! Check out the easy steps.
Petal pushers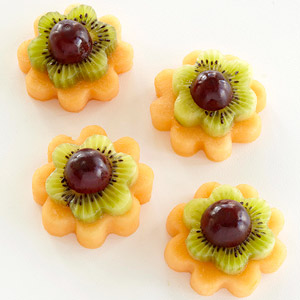 These simple, yet pretty Petal Pushers are a great way to get kids to eat fresh. Serve 'em up at a party, or on top of toast for a special morning breakfast.
PB&J muffins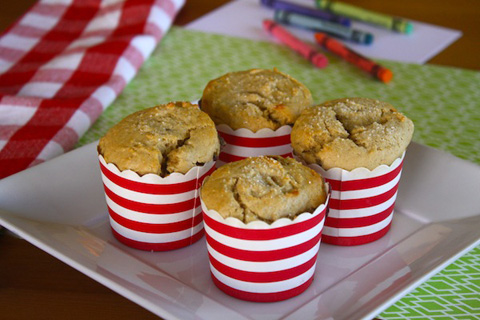 These PB&J muffins are perfect for on-the-go breakfast or snacks, and go great in kids' lunches as a special surprise. The best part: they're easy to make! Check out the recipe.
Indy racer fruit snacks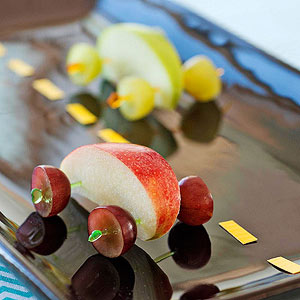 It will be tough not to play with this food, but these clever Indy Racer Fruit Snacks from Parents.com will get your mind racing with other fun ways to serve up fresh fruit.
Baked zucchini sticks with Parmesan dip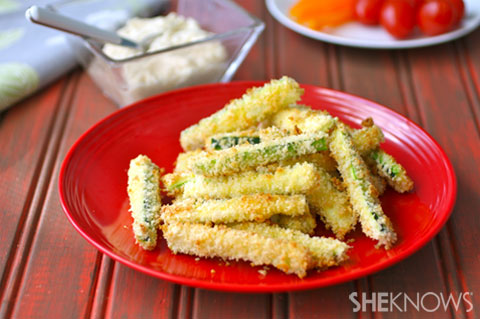 Sub out greasy French fries for these delicious baked zucchini sticks that go great as a side or as a stand-alone snack.
Corn flowers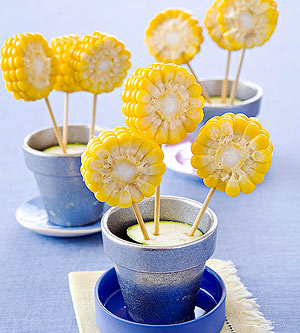 This clever Corn Flower presentation couldn't be easier — simply slice, stick and enjoy! Your kids will get a kick out of flowerpots at the table, and they're likely to become a frequent request in your household.
California raisin peanut butter rollups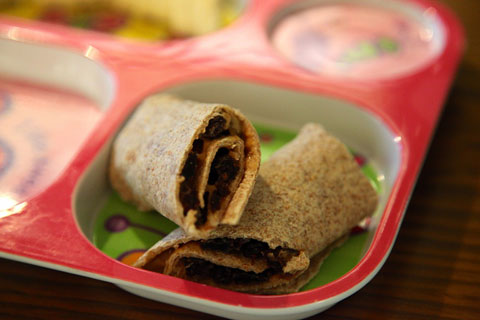 This oh-so-easy power snack subs out the usual sugar-filled jellies and jams for naturally-sweet raisins that are packed with antioxidants. They're a great snack for moms and kids alike! Get the recipe.
Deviled egg boats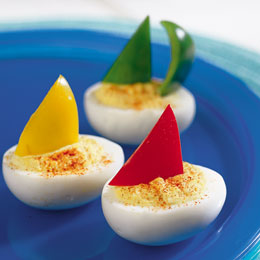 Recruit your little helpers to assist with these yummy deviled egg boats from Simply Southern Mom. Use red, orange and yellow peppers for a colorful display, and watch your kids become inspired of other ways to get creative with their food.
Peanut butter and fruit kabobs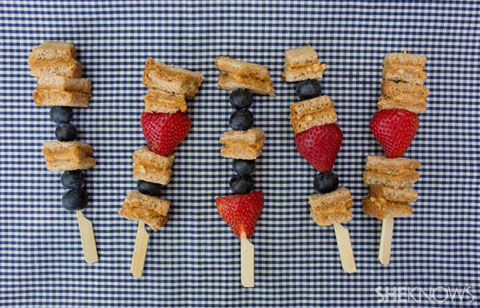 These simple, yet tasty peanut butter and fruit kabobs are a hit for kids of all ages. Incorporate fresh, seasonal produce and stick them in your family's lunches for a fun, tasty surprise.
Healthy aquarium rice cakes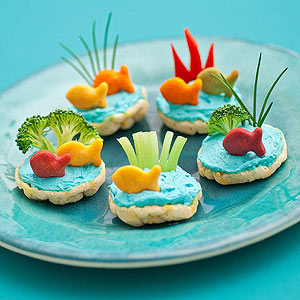 Watch your kids' eyes widen as you present them with these way-too-cute snacks. They'll love these so much, they may not even notice how much they're enjoying the raw broccoli! Get the recipe from Parents.com.
Cinnamon-baked apple chips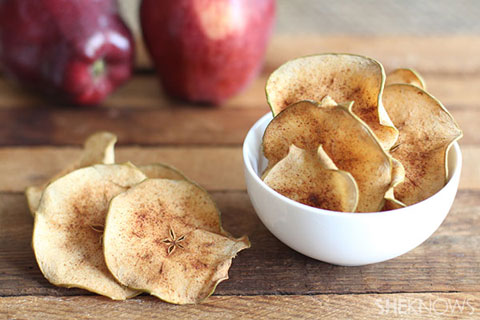 These cinnamon-baked apple chips are the perfect snack on-the-go, and can be made ahead and bagged for lunches or snacks throughout the week.
Chocolate-covered pretzel rods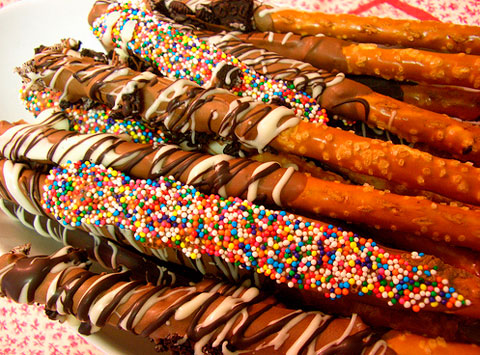 These delectable chocolate-covered pretzel rods from JoyfulAbode will be a huge hit for snackers of all ages. Best of all, they're a breeze to make, and will quickly become a go-to recipe in your household.
More family-friendly snack recipes
3 Easy stuffed celery ideas
Party-sized snack recipes
7 After school snacks with veggies