Flourless chocolate coconut cake
Flourless chocolate coconut cake is a perfect dessert you can serve to anyone. Rich and fudgy with a hint of the tropics, this is one chocolate dessert that delivers!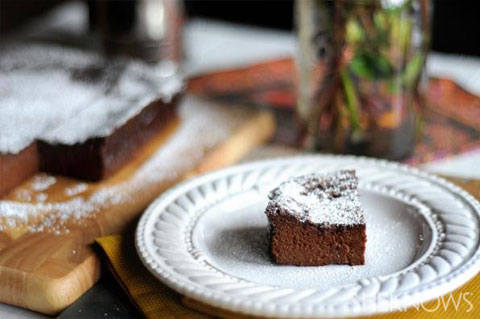 Flourless chocolate coconut cake
Serves 12
Ingredients:
1 (14 ounce) can full-fat coconut milk
1 (16 ounce) bag 60 percent cacao chocolate chips
4 whole eggs, whisked together
1 tablespoon butter
1 teaspoon vanilla extract
1/4 teaspoon coconut extract
Pinch of salt
Powdered sugar or toasted coconut to garnish, optional
Directions:
Preheat oven to 325 degrees F.
Line an 8 x 8-inch square cake pan with foil or parchment paper and spray with nonstick spray. Set aside.
In a small saucepan, gently heat the coconut milk over medium-low heat until it starts to steam slightly.
Remove from the heat, pour in the chocolate chips and allow to sit for 2 to 3 minutes.
Whisk the chocolate and coconut milk together until smooth, then add the butter, vanilla extract, coconut extract and salt.
Let the mixture cool for about 10 minutes, then slowly drizzle the whisked eggs in while continually whisking the chocolate mixture until the eggs are completely incorporated.
Pour into the prepared baking pan and place in the oven.
Bake at 325 degrees F for 45 minutes, or until the center is no longer liquid.
Let cool completely before removing from the pan.
To remove, pull the cake out in 1 piece using the foil or parchment paper.
Sprinkle with powdered sugar, toasted coconut and cut into 12 pieces.
Serve.
More delectable flourless dessert recipes
Chipotle flourless chocolate cake
Flourless chocolate cranberry crinkle cookies
Flourless carrot cake