Heart-shaped Jell-O cookies recipe
You can easily change the color and flavor of these adorable cookies by varying the kind of Jell-O used!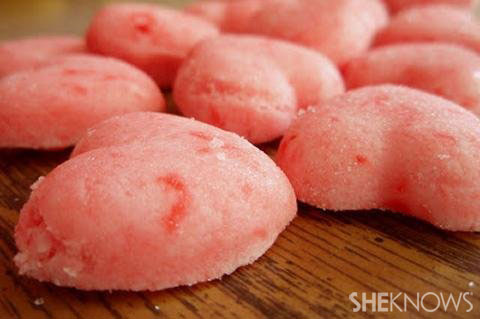 Heart-shaped Jell-O cookies
Makes anywhere from 4 to 6 dozen, depending on the size of your cookie cutter
Ingredients:
3/4 cup butter
1/2 cup granulated sugar
1/2 cup Jell-O powder
2 eggs
1/2 teaspoon vanilla extract (or any other flavor)
2-1/2 cups all-purpose flour
1 teaspoon baking powder
1 teaspoon salt
Food coloring or gel paste, if desired
Directions:
Cream together the butter, granulated sugar and Jell-O powder until fluffy, about 2 to 3 minutes.
If the color of the mixture looks weak, add a few drops of coloring at a time until you reach the desired hue.
Add the eggs and flavor extract and beat well.
Add the flour, baking powder and salt; mix well. The dough will be fairly soft, but not sticky.
At this point, you have 2 options. To make heart cut-outs using a cookie cutter, refrigerate the dough before cutting, several hours or overnight. Alternatively, you can press the soft dough into molds and refrigerate those until the dough is set. I prefer this method because you can just pop them out and put them on the prepared pan.
Preheat oven to 400 degrees F.
Sprinkle some granulated sugar on your work surface, then roll the cookie dough so that it's about 1/2-inch thick.
Carefully peel up the cookies and place them on a pan lined with parchment paper.
Generously sprinkle the tops of the unbaked cookies with colored coarse sugar.
Bake for about 6 minutes, then remove from oven and let cool on a cookie rack.
More heart-shaped treats
Heart-shaped s'mores pops
Heart-shaped brownie treasure boxes
How to make a heart-shaped cake