Dinner Shortcuts: Quick and easy 7 Up biscuits
You're not going to believe the secret ingredients in these delicious biscuits. A can of 7 Up isn't just for drinking!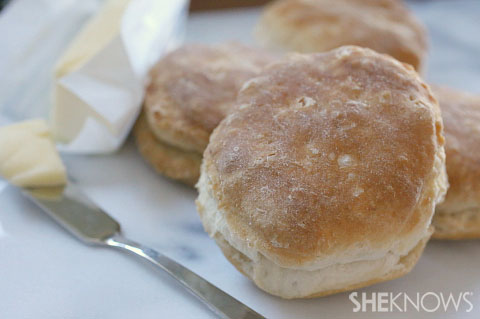 I have always been a huge fan of homemade biscuits, but I often don't find the time in my schedule to make them. However, after I made these delicious baked goods I realized that making biscuits doesn't have to be so hard. I like my biscuits slathered with salted butter but they are also delicious topped with jelly or honey.
Quick and easy 7 Up biscuits
Adapted from Food.com
Yields 9 biscuits
Ingredients: 
2-1/2 cups Bisquick baking mix, divided
1 teaspoon kosher salt
1/2 cup sour cream
1/2 cup 7 Up lemon lime soda (not diet)
1/4 cup melted salted butter
Directions:
Preheat oven to 425 degrees F.
In a large bowl, add 2 cups baking mix and salt, stir.
Using a pastry blender, gently cut in sour cream. You will blend the mixture until the sour cream seems well worked into the flour.
Pour in 7 Up and stir. At this point your dough will be very sticky.
Take remaining 1/2 cup baking mix and sprinkle on clean surface. Dump dough onto baking mix and lightly coat your hands with baking mix.
Gently knead the dough until the outside becomes coated in baking mix and starts holding shape. Pat the mixture out into a 1-inch thick circle.
Using a 3-inch biscuit cutter, cut out 9 biscuits.
Add melted butter to a 9 x 9-inch pan and add biscuits to pan.
Bake for about 15 minutes until golden brown.
More Dinner Shortcuts recipes
Greek meatball sliders recipe
Italian sub crescent roll-ups recipe
Chicken and rice casserole recipe