Dinner Shortcuts: Tortilla pizza rolls
Pizza rolls don't have to come in a package. These are homemade and packed full of pepperoni, marinara sauce and melty mozzarella cheese.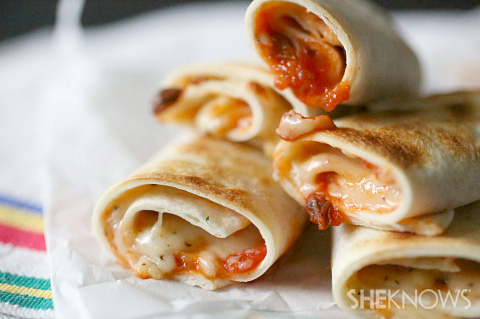 Growing up I always secretly had a thing for store-bought pizza rolls. Then I grew up and realized that they are filled with sketchy ingredients and honestly not that delicious. Sometimes I still get a craving for that bite-size cheese and pepperoni mixture, so I decided to come up with a homemade version. I wanted to keep the ingredients simple and still doable for a quick weeknight dinner or snack. If you're not a fan of meat, simply leave out the pepperoni. They are still super delicious.
Tortilla pizza rolls
Yields 12 pizza rolls
Ingredients:
4 small flour tortillas
1/4 cup marinara sauce
1/2 cup shredded mozzarella cheese
24 slices pepperoni
Directions:
Preheat you oven to 400 degrees F and line a baking sheet with parchment paper.
Cut each tortilla into 3 strips and spread equally with marinara sauce.
Sprinkle with mozzarella cheese and add 2 pepperonis per slice.
Gently roll up the tortilla and press flat so it stays closed. If you have an issue with the tortilla opening you keep it closed by inserting a toothpick.
Bake for about 10 minutes until lightly browned on top and cheese is melted in the middle. Serve with more marinara for dipping if desired.
More Dinner Shortcuts recipes
Corn dog muffin recipe
Taco mac casserole recipe
Oven baked meatball sub recipe