Chocolate peanut butter swirl bread
Chocolate, peanut butter and fresh bananas are all baked into this easy and delicious swirled bread. Perfect for a quick breakfast or as a snack, you will love the combination of flavors in this homemade treat.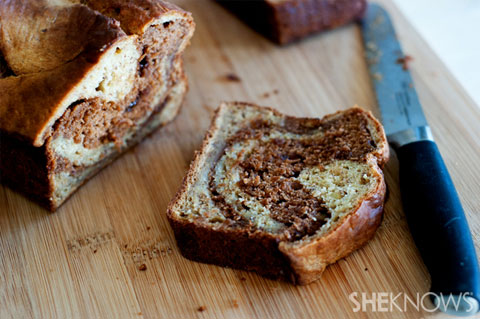 Who doesn't love a fresh homemade loaf of banana bread? I grew up on homemade banana bread and even though I truly love the traditional version I decided to put a fun spin on it. Using melted chocolate and creamy peanut butter, I put the best of both worlds into this baked treat. Feel free to use dark chocolate or crunchy peanut butter if you desire.
Chocolate peanut butter swirl bread recipe
Yields 10-12 servings
Ingredients:
2 cups all-purpose flour
1 teaspoon baking soda
1/4 teaspoon salt
1/2 cup agave, maple syrup or sugar
1/4 cup apple sauce
3 very ripe bananas, mashed
1 (6 ounce) container 0 percent plain Greek yogurt
2 eggs
1/4 cup all-natural creamy peanut butter
1/2 cup milk chocolate chips
Cooking spray
Directions:
Preheat oven to 350 degrees F and spray an 8-1/2 x 4-1/2-inch loaf pan generously with nonstick cooking spray.
In a mixing bowl, add the flour, baking soda and salt.
In a separate mixing bowl, add the mashed bananas, agave, Greek yogurt and eggs. Using a hand mixer, mix the wet ingredients well until smooth. Add the wet ingredients into the dry and continue to mix until the batter is thick and there are no lumps.
Divide the batter into 2 bowls. Add the peanut butter to 1 of the batters and mix well. In a small microwave-safe bowl, add the chocolate chips and heat for 1 minute or until soft and melted. Add the melted chocolate to 1 of the bowls of batter and mix well.
Begin alternating the chocolate batter with the peanut butter banana batter until you have used up both batters. Bake for 35 minutes or until the center of the bread is baked completely.
Allow to cool and slice. Store bread in an airtight container for several days.
More bread recipes
Easy homemade paleo bread
Slow cooker rosemary olive oil bread
How to make a perfect loaf of French bread