Dinner Shortcuts: Cheesy kielbasa tortellini
Kielbasa is a great time saver to bring in any meal. It's smoky, spiced and pairs perfectly with cheesy tortellini.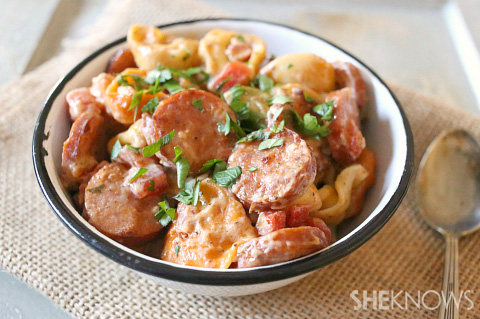 I'm always rushing around wondering what to make for dinner. Most of the time I look in the fridge and attempt to whip up something with what I have on hand. This easy recipe is ready in just about 30 minutes and I almost always have the ingredients on hand.
Cheesy kielbasa tortellini
Yields 4 servings
Ingredients:
2 tablespoons olive oil
1 pound smoked kielbasa, sliced into 1/2-inch rounds
1 small yellow onion, diced
2 cloves garlic, minced
1 (10 ounce) can Rotel tomatoes with green chilies
1-2 cups beef stock
10 ounces frozen cheese tortellini
1/2 cup shredded cheese
Directions:
In a large skillet over medium heat, add olive oil. Once the oil is hot, add in kielbasa and diced onions. Cook until the sausage is browned and the onions are translucent. Add in garlic and cook until fragrant, about 30 seconds.
Add in Rotel tomatoes (with juice), beef stock and tortellini. Add more beef stock if it seems like it may need some. Stir, lower the heat to medium low and cover. Simmer for about 8 minutes until the tortellini are just starting to soften.
Remove the lid and cook until the sauce is starting to thicken and the tortellini are fully cooked.
Stir in cheese and enjoy warm.
More Dinner Shortcuts recipes
Baked tacos recipe
One-skillet tuna noodle casserole recipe
Black bean tostada recipe