Modern Mom: 5 Healthy habits to pass on to your kids
We all want our kids to grow up having a healthy relationship with food. Here are five habits you'll want to pass on.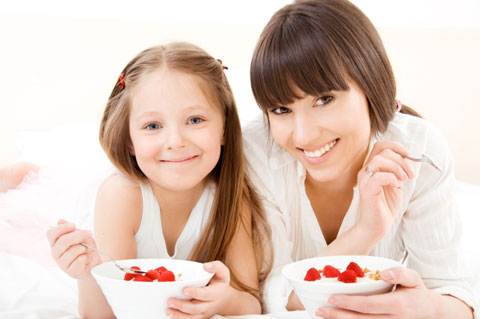 What habits do you have that involve diet and exercise? Do you eat whatever you want, or try to limit junk food? Do you cook most meals at home or tend to eat out? Once you have kids, it's important to develop healthier habits for both your sake and your kids' sake. For instance, I grew up with a mom that was always on a diet. This led to me drinking diet soda by age 11 and going on diets as a teenager. Now that I have kids of my own, it's super important for me to pass on good habits so my kids have a healthy relationship toward food. Here is what you want to pass on.
No technology during mealtimes
Sure, it's easy to want to veg out and eat your dinner while watching your favorite TV show (multitasking?), but this can lead you to overeat and opt for quicker, less healthy meals. Teach your kids to value food and really enjoy what they're eating instead of scarfing down whatever is in front of them. Not allowing technology during mealtimes is a great way to make the meal itself an experience, instead of having the TV show experience first and the meal come second. Plus, it puts an emphasis on family bonding — ask your kids how their day was, the high and low point of their day and what you can do to help them. Hopefully, they'll look forward to mealtimes since they'll get to eat and bond with you.
Limit eating out
While it's super easy to hit up the McDonald's drive-thru or pop in a frozen pizza, none of these "quick" items provide the nutrition that your child's growing body needs. Make it a goal to meal plan and only eat out on special occasions. If you don't love cooking, you can make simple meals that are packed with way more nutrients than any drive-thru will provide. Each night, plan a meat (grilled chicken, burger patties, salmon, etc.), a veggie (steamed broccoli with seasonings, corn on the cob, asparagus, etc.) and a carbohydrate (baked potatoes, homemade sweet potato fries, whole wheat rolls, etc.). Dinner doesn't have to be complicated to be healthy!
Cut the mindless snacking
Snacks between meals are sometimes necessary, and can actually be beneficial in making sure you don't overeat when mealtime comes. But, what type of snacking are you, as a parent, guilty of? Do you get bored and grab a handful of cookies or a bag of chips, or do you have an apple with peanut butter as a mid-morning snack? Think about it — what your kids see you doing is what they're going to do. Try not to snack mindlessly, but instead plan healthy snacks around your meals. Ideas include fresh fruits, carrot sticks, pita chips and hummus, frozen grapes, almonds, cottage cheese and trail mix.
Don't focus on weight
Try not to make your weight a huge issue in front of your kids, especially little girls. Girls that are constantly criticized for their weight or who aren't allowed to eat certain things because of their weight can grow up with poor body images. Eat healthy because it's good for your body and gives your body the fuel it needs to function each day. If you do this, your kids will follow and most likely won't have weight issues or body image issues in their adult years.
Make fitness fun
Diet and exercises go hand in hand, and eating healthy is only one-half of the equation. Prioritize fitness in your family's life. This can be anything from going for a walk a few a times a week, to playing Frisbee at the park, to joining a gym or signing your kids up for dance classes or sports leagues. There is so much more to life than being surrounded by technology. Make it a goal to get some fresh air every day and get your heart pumping!
More Modern Mom
Modern Mom: Teaching kids table manners
Modern Mom: What is baby-led weaning?
Modern Mom: Food and recipe ideas for toddlers