Pesto turkey burgers recipe
Pesto turkey burgers will make anyone a turkey burger convert. Fresh turkey patties packed with pesto, roasted red peppers and then topped with shaved Parmesan are sure to take anyone on a trip to FlavorTown!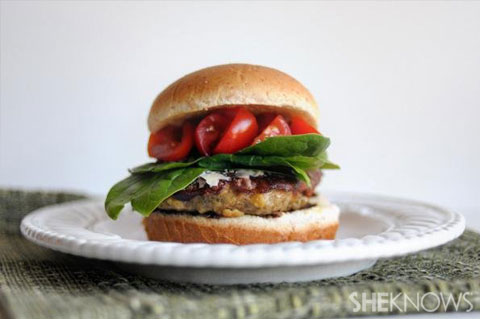 Pesto turkey burgers
Serves 4
Ingredients:
1 pound ground turkey
2 tablespoons prepared pesto
2 tablespoons chopped roasted red peppers
1 teaspoon salt
1/2 teaspoon pepper
1/3 cup cracker crumbs
4 buns of choice
1/2 cup shaved Parmesan cheese
Spinach, lettuce, tomatoes, etc. to top the burgers with
Directions:
Combine the turkey, pesto, red peppers, salt, pepper and cracker crumbs in a bowl and mix until well combined.
Form 4 patties, place on a plate and cover with plastic wrap.
Refrigerate for at least 1 hour.
To cook, heat a nonstick skillet over medium heat.
Spray with nonstick spray.
Place the patties evenly on the skillet.
Cook for about 5 to 6 minutes per side until cooked all the way through.
Top with Parmesan cheese and serve atop the buns.
Serve hot.
More fabulous turkey burger recipes
Bleu cheese and bacon-stuffed turkey burgers
California turkey burgers
Honey mustard turkey burgers