Dinner Shortcuts: Roasted vegetable biscuit pizza
Making pizza at home doesn't have to be complicated. We took leftover roasted vegetables and made little biscuit pizzas.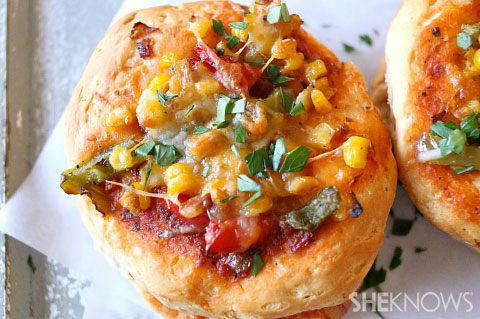 Pizza doesn't have to be complicated. When you're short on time these tasty biscuit pizzas are just what the doctor ordered! We used up some leftover roasted vegetables but you can really use just about any topping you have on hand. If you do not have any leftover roasted vegetables, simply pan sauté a few of your favorites.
Roasted vegetable biscuit pizza
Yields 8 mini pizzas
Ingredients:
1 (8 count) refrigerated jumbo biscuits
8 tablespoons pizza sauce
2 cups roasted vegetables (we used mixed peppers, onions and corn)
1 cup shredded cheese
Directions:
Preheat your oven to 350 degrees F and line a baking sheet with a Silpat or parchment liner.
Open package of biscuits and press them flat to create little pizzas. Lay out onto the prepared baking sheet.
Add 1 tablespoon of sauce per biscuit and top each equally with roasted vegetables and cheese.
Bake for about 20 minutes until the cheese is melted and the biscuit is fully cooked.
More Dinner Shortcuts recipes
Ham and cheese crescent roll-up recipe
Barbecue chicken pizza recipe
Salmon patties recipe