Sweet apple cinnamon oatmeal
Sweet apple cinnamon oatmeal makes for a healthy breakfast that actually tastes great! Grated apples bring both sweetness and texture to a great bowl of oats to get the day started right.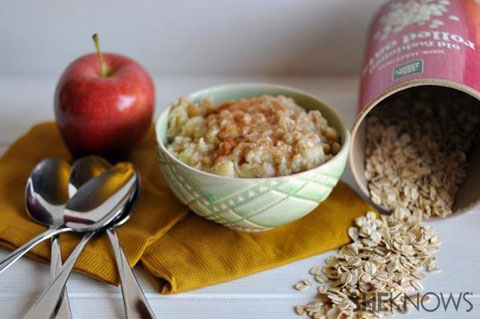 Sweet apple cinnamon oatmeal
Serves 2
Ingredients:
1 cup old-fashioned rolled oats
2 cups almond milk
1 sweet apple, grated with skin on
1 teaspoon cinnamon
Directions:
Combine all ingredients in a small saucepan and bring to a simmer over medium heat.
Stirring constantly, allow the liquid to completely absorb into the oatmeal.
Remove from the heat immediately and divide into 2 bowls.
Serve hot.
More heart-healthy oatmeal recipes
Easy carrot cake oatmeal
Pumpkin pie oatmeal with homemade cranberry granola
Black forest baked oatmeal