Sweet potato breakfast cake
Sweet potato breakfast cake is a perfectly sweet and healthy dish the whole family can enjoy. Sweet potato puree makes the cake beautiful and nutritious at the same time.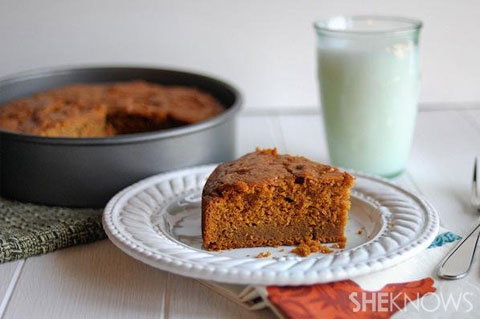 Sweet potato breakfast cake
Serves 8
Ingredients:
1/2 cup butter, melted
1-1/2 cups sugar
2 whole eggs, lightly beaten
1/2 cup almond milk
1 cup sweet potato puree
1 tablespoon vanilla extract
2 cups whole wheat flour
1 tablespoon baking powder
1/4 teaspoon salt
Directions:
Preheat oven to 350 degrees F and spray an 8-inch round cake pan with nonstick spray. Set aside.
In a large bowl, whisk together the butter, sugar, eggs, almond milk, sweet potato puree and vanilla until smooth and well combined.
Add the flour, baking powder and salt and stir until just combined.
Pour the batter into the prepared pan and bake at 350 degrees F for 65 to 75 minutes, or until a toothpick inserted into the middle comes out clean.
Allow to cool completely before serving.
More breakfast cake recipes
Cranberry buttermilk breakfast cake
Cocoa breakfast cake
Low-fat coffee cake