Gluten-free baked oatmeal casserole
Oats, fresh fruit and chocolate chips are baked up golden brown for a breakfast that can be enjoyed throughout the week.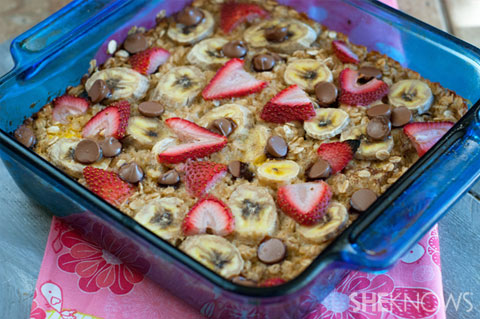 This breakfast dish is hassle-free and also gluten-free! This is a wonderful and easy family breakfast idea that saves lots of time since it can be made ahead. Cut this casserole into perfect little squares and enjoy it throughout the week. You can add almost any type of fruit or mix-in desired such as chocolate chips, granola or even nuts!
Gluten-free baked oatmeal casserole recipe
Adapted from Inspired by Taste
Yields 6 servings
Ingredients:
2 cups gluten-free oats
Organic brown sugar
1 teaspoon baking powder
1 teaspoon ground cinnamon
1/2 teaspoon sea salt
1 cup sliced strawberries
1 large banana, sliced
1/2 cup chocolate chips
2 cups vanilla almond milk
1 large organic egg
1/4 cup butter, melted
2 teaspoons pure vanilla extract
Directions:
Preheat oven to 375 degrees F and spray a medium-sized casserole dish generously with nonstick cooking spray.
In a large bowl, combine the oats, brown sugar, baking powder and cinnamon, salt and mix well. Add in half of the strawberries, half of the bananas and 1/4 cup of the chocolate chips and pour the dry mixture into the casserole dish.
In a separate bowl, add the almond milk, egg, butter and the vanilla extract mixing well. Pour the wet mixture over top of the dry oatmeal mixture. Place remaining strawberries, bananas and chocolate chips on the top and bake for 30 to 40 minutes or until the center of the casserole has completely set.
Remove from the oven and allow to cool slightly. Cut into squares and serve warm. Store leftovers in an airtight container and reheat when ready to serve.
More make-ahead recipe ideas
Easy overnight oats
Grab and go scrambled egg cups
20 Make-ahead snacks