Modern Mom: Healthy after-school snacks the kids will love
Kids are usually ravenously hungry after school. Here are some healthy options they'll love that will fill them up until dinnertime.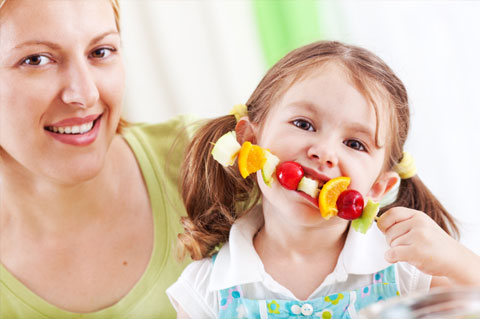 I remember coming home from school and eating pretty much everything in sight. Granola bars, a bowl of ice cream and apple slices with peanut butter were a few of my favorites (and yes, sometimes one snack consisted of all three items). More often than not, my appetite was ruined for dinner which left my mom furious with me. With my kids, I'm going to make sure they eat something healthy after school that satisfies their craving for food without ruining their appetite for dinner.
Easy no-bake snacks
We already mentioned apple slices with peanut butter and granola bars. Here are a few other healthy snack ideas that don't require any cooking or baking on your part:
Cheese and crackers
Fig Newton cookies
Pita chips and hummus
Yogurt parfaits (yogurt, fruit and granola)
Greek yogurt with cereal on top
Pretzels dipped in yogurt
Trail mix (homemade or store-bought)
Celery with peanut butter and raisins (also known as ants on a log)
Goldfish crackers and sunflower seeds
Toast with sliced avocado
Popcorn
Snacks that require a little cookin'
These snacks require a bit of time in the kitchen, but not much. You can even make some of the ideas in batches and freeze for other days!
Quesadillas (whole-wheat tortillas with cheese, veggies such as onions or peppers and salsa)
Eggs (scrambled with cheese, over-easy with toast, baked or poached)
Homemade potato chips or sweet potato chips (slice up, drizzle with olive oil, add some cheese or seasoning on top and bake)
Sandwiches (peanut butter and jelly, meat and cheese, vegetarian)
Oatmeal with bananas and blueberries (who says oatmeal must be reserved for breakfast?)
Pasta salad (your favorite noodles, ham, olives and Italian dressing; served cold)
Grilled chicken and veggies
Sweet treats
And finally, some baked goods and sweet treats your kids will love.
As you can see, there are dozens of options when it comes to feeding your kids healthy after-school snacks. The key to eating healthy is to be prepared. Plan ahead and purchase healthy foods each week at the grocery store. Have a few staples always on hand (fruits, crackers, pasta, yogurts) and then try and mix it up each week. Kids get bored eating the same foods all the time. One week, plan on making fresh smoothies after school each day, and the next week, maybe have something simpler like pasta salad or veggies with hummus. Variety is the spice of life, and it's what will help keep your kids on the path to healthy eating.
More Modern Mom
Modern Mom: Teaching kids table manners
Modern Mom: What's the difference between organic and natural?
Modern Mom: Should kids go vegan?