3 No-bake cookie dough desserts
My favorite part of making cookies isn't the actual cookie, it's the dough. I could probably eat about 12 bowls of it, but that might lead to salmonella poisoning. If you (and your kids) love eating raw cookie dough as much as I do, make one of these desserts instead. No food poisoning required.
These egg-free, no-bake desserts are perfect for any event or time of day. In fact, we've even heard from a friend that the dip makes a great breakfast. Paired with fruit, of course. You know, to make it healthy.
Cookie dough truffles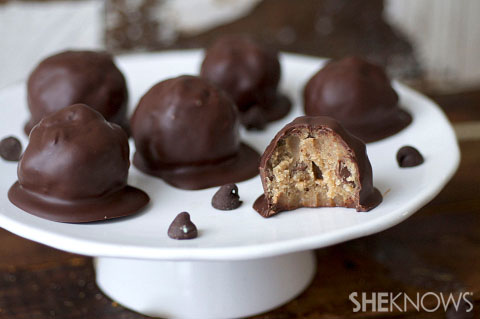 Recipe inspired by Taste of Home.
Yields about 15 truffles
Ingredients:
1/4 cup butter, soft
1/3 cup + 2 tablespoons brown sugar
1/2 teaspoon vanilla extract
1/4 cup all-purpose flour
3/4 cup whole wheat flour
7 ounces sweetened condensed milk
1/3 cup milk chocolate chips
2/3 cup semisweet chocolate chips
Oil
Directions: 
In a large stand mixer, beat the butter, brown sugar and vanilla together until creamy. Add the flour and milk, alternating the 2. Mix in the chocolate chips. Shape into 1-inch balls and place on a parchment paper-lined baking sheet. Chill for at least 2 hours or until firm.
Place the semisweet chocolate chips in a large bowl and microwave on low for about 90 seconds, stirring every 30 seconds. Dip the cookie dough balls into the chocolate until fully coated.
Chill another 2 hours.
Cookie dough milkshake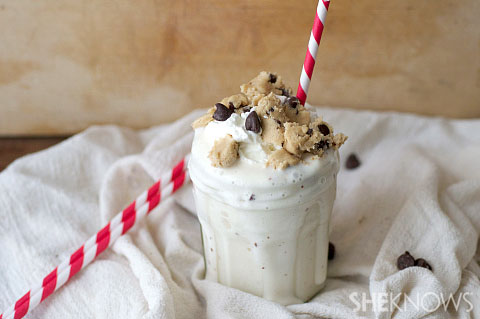 Serves 2
Ingredients:
About 6-8 scoops vanilla bean ice cream
1/2 cup cookie dough pieces, separated
2 tablespoons chocolate chips
1/3 cup 2 percent milk
Directions: 
Place the ice cream, 1/4 cup cookie dough pieces, 1 tablespoon chocolate chips and milk in a blender. Blend on low until thick and creamy. Pour into 2 glasses and top each milkshake with remaining cookie dough pieces.
No-bake cookie dough dip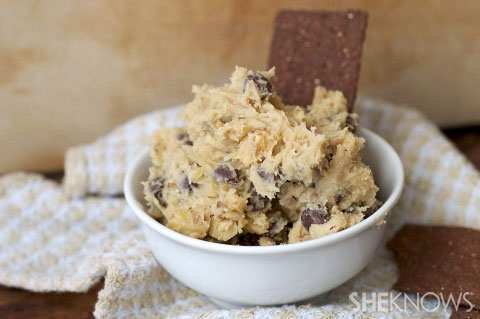 Slightly adapted from Center Cut Cook.
Serves about 6-8
Ingredients:
1 stick unsalted butter
1/2 cup white sugar
1/4 cup brown sugar
1-1/2 teaspoons vanilla
1 cup all-purpose flour
2 tablespoons light cream
2/3 cup chocolate chips
1/4 cup chopped walnuts
Directions: 
Place the butter, sugars and vanilla into the bowl of a large stand mixer. Add flour and light cream, beat to combine. Mix in the chocolate chips. Serve with chips or fruit!
More cookie dough desserts
Chocolate chip cookie dough truffle cupcakes
Nutty chocolate chip cookie dough dip
No-bake chocolate chip cookie dough bites