Dinner Shortcuts: Spinach and artichoke bubble bake
Bubble bakes are the perfect way to bring soft, delicious flavor to any meal. We spiced this recipe up with spinach and artichokes and lots of cheese.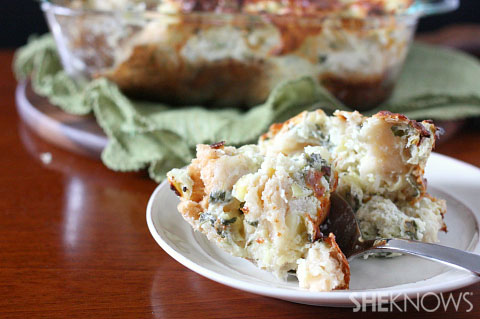 Bubble bakes are an easy and delicious way to spice up your dinner routine. They can be quickly thrown together and customized to your family's liking. However, this time around we went the spinach and artichoke route. This bubble bake combines the deliciousness of fresh, soft bread and the creaminess of spinach artichoke dip. Hello delicious!
Spinach and artichoke bubble bake
Adapted from Oh Bite It!
Yields contents of 9 x 9-inch dish
Ingredients:
1 (8 count) package refrigerated biscuits (large size)
2 cups shredded Italian blend cheese
8 ounces cream cheese, room temperature
1/2 cup grated Parmesan cheese
1 cup sour cream
1 (15 ounce) can artichoke hearts, roughly chopped
3 cups finely diced fresh baby spinach
1/4 cup finely diced onion
2 teaspoons minced garlic
Pepper, to taste
Directions:
Preheat oven to 350 degrees F and spray a 9 x 9-inch baking dish with nonstick spray. Set aside.
Cut each biscuit into 4 pieces and set aside.
In the bowl of an electric mixer, mix together 1 cup shredded cheese, cream cheese, Parmesan cheese and sour cream until creamy.
Stir in artichokes, spinach, onion and garlic. Once mixed add in biscuits, mix and add to prepared casserole dish.
Top with remaining shredded cheese and foil. Bake for 30 minutes, remove foil and continue baking for another 30 minutes.
Once fully cooked, let rest for 5 minutes and enjoy.
More Dinner Shortcuts recipe
Creamy tomato tortellini soup recipe
Italian sub crescent roll-ups recipe
Pesto pasta with peas and chicken sausage recipe