3 Kid favorites made vegan
Like many, one of our New Year's resolutions involves eating fewer meats and fatty dairies. But, getting our cheese- and burger-loving kids on board is a little harder. To make eating vegan easier for everyone, we made kids' favorite meals meat and dairy free!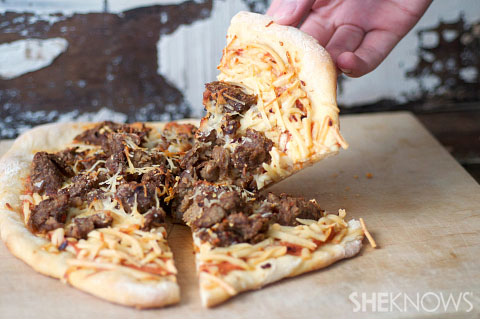 These incredible recipes take our kids' favorite meals, like meaty pizza, milkshakes and muffins, and turn them into vegan delights! No butter, milk, cheese or eggs, these recipes will make eating vegan a breeze.
Sausage and cheese pizza
Serves about 8
Ingredients: 
For the dough: 
2-1/2 cups bread flour
1 package (2-1/4 teaspoons) active dry yeast
1 cup warm water (100-110 degrees F)
1 tablespoon extra virgin olive oil
1 teaspoon sugar
Dash of salt
For the toppings:
1 cup marinara or pizza sauce
2 cups Go Veggie! vegan-style mozzarella shreds
1/4 cup vegan Parmesan cheese
8 ounces (1/2 package) Gimme Lean veggie sausage, cooked
Pepper and crushed red pepper
Directions: 
To make the crust, mix the yeast and water together. Let sit until foamy, about 10 minutes. Stir in the sugar and oil. Gradually add the flour, 1/2 cup at a time, until a dough forms. Place the dough on a floured surface and knead until soft and shiny. Let rest for about 5 minutes. Once rested, roll out with a floured rolling pin and place on a pizza stone.
Top the dough with sauce and spread all over the crust, leaving a 1-inch border. Top with mozzarella shreds, Parmesan and sausage. Top with pepper and crushed red pepper.
Strawberry, banana and maple milkshake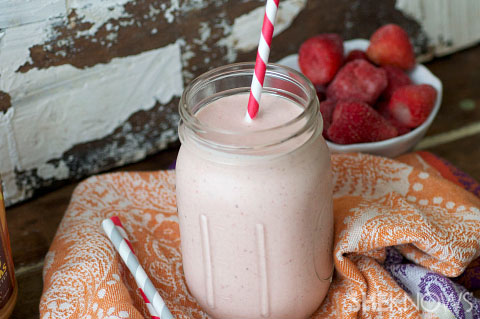 Serves about 2
Ingredients: 
1/2 pound fresh strawberries, hulled
2 tablespoons sugar
1/2 pint Arctic Zero strawberry frozen dessert
1/2 pint Arctic Zero vanilla maple frozen dessert
1 frozen banana
Directions: 
Place all of the ingredients into a blender and pulse on low until thick and creamy. Serve with fresh whipped cream or strawberries and enjoy!
Blackberry peanut butter muffins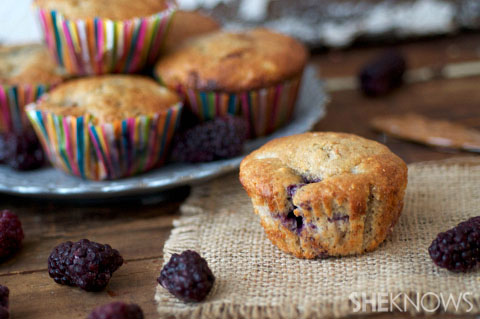 Serves about 18
Ingredients: 
1-1/2 cups whole wheat flour
1 cup all-purpose flour
1 tablespoon baking powder
1/2 teaspoon baking soda
Dash of cinnamon
1 banana
1/4 cup applesauce
1 cup vegan sour cream
2 tablespoons almond milk
1/4 cup + 2 tablespoons canola oil
3/4 cup brown sugar
1/4 cup white sugar
1 teaspoon vanilla extract
1-1/2 cups fresh blackberries
Directions:
Preheat oven to 400 degrees F. Line a 24 cavity muffin tin with paper liners.
In a large bowl, whisk the flours, baking powder, baking soda and cinnamon together. In another bowl, beat the banana, applesauce, sour cream, almond milk, canola oil, sugars and vanilla together. Gradually stir in the flours until the mixture is fully combined.
Gently fold in the blackberries. Fill each muffin cavity about 2/3-3/4 the way full. Bake for about 20 minutes, or until a toothpick inserted in the middle comes out clean.
More vegan recipes
Energizing green tea detox smoothie
Homemade vanilla cashew butter
Vegan penne alla vodka