Grilled cheese puffs
Who doesn't love a crispy on the outside, gooey on the inside grilled cheese? These amazing little puffs taste just like your favorite sandwich, only in bite-size little portions.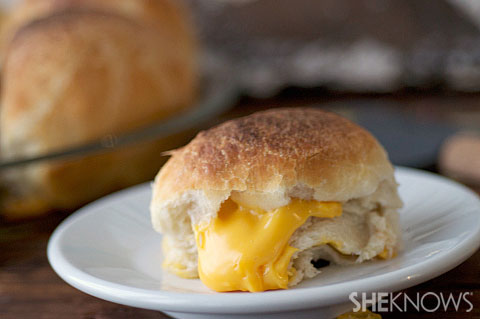 We don't know who will love these gooey little puffs more, you or your kids! These are fantastic little additions to your favorite tomato soups! The only problem you'll have with these is showing enough restraint to only have one!
Grilled cheese puffs
Serves about 6
Ingredients: 
6 frozen dinner rolls
6 (2-inch) chunks Velveeta cheese
2 tablespoons unsalted butter
Directions: 
Grease an 8-inch round cake pan with nonstick cooking spray.
Defrost the rolls until they are soft and pliable. Place the Velveeta cheese cubes into the center of each roll, carefully pinching the opening shut with your fingers. Place seam side down in the baking dish and cover with greased plastic wrap.
Let the rolls puff up and rise for about 2 to 3 hours.
Preheat oven to 350 degrees F. Remove the plastic wrap and bake for about 22 to 25 minutes, or until golden brown.
More grilled cheese recipes
12 Creative grilled cheese sandwich recipes
Breakfast grilled cheese
White cheddar popcorn grilled cheese