Easy cheeseburger-stuffed zucchini boats
Zucchinis are halved and stuffed with a tasty cheeseburger filling and baked. This is a great way to sneak in vegetables without your kids realizing it!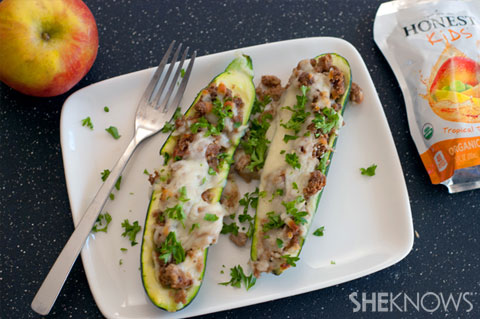 If you have a picky eater in your family like I do, then getting creative and trying to disguise vegetables can become difficult. In this recipe, fresh zucchinis are cut in half, hollowed out and filled with a cheeseburger type filling. Bake these up golden brown and serve warm. Your fussy eaters will never complain about these little cheeseburger-stuffed zucchini boats.
Easy cheeseburger-stuffed zucchini boats recipe
Inspired by cinnamon spice & everything nice
Yields 4 servings (2 halves per person)
Ingredients:
4 medium zucchini
1 tablespoon olive oil
1 pound ground turkey breast or ground beef
1/2 cup diced sweet onion
1/4 cup dill pickle relish
1 teaspoon garlic powder
1 tablespoon Worcestershire sauce
Salt and pepper to taste
2 cups grated white American cheese
Directions:
Preheat oven to 375 degrees F and spray a casserole dish with nonstick cooking spray.
Cut each zucchini in half and using a spoon carefully hollow out the flesh to create a boat for the filling.
In a pan over medium heat, add the turkey or lean ground beef. Cook until no longer pink or until juices run clear.
In a mixing bowl, add the cooked turkey or beef, onion, relish, seasonings and 1 cup of the grated cheese mixing very well.
Fill each of the zucchini boats with the cheeseburger mixture and place into the casserole dish. Sprinkle the remaining 1 cup of cheese over the tops of the zucchini boats and bake for 20 to 25 minutes or until the cheese is bubbly and the zucchini has softened. Allow to cool several minutes as the filling will be very hot. Best served warm.
More easy zucchini recipes
Raw zucchini noodles with creamy avocado sauce
Chocolate zucchini muffins
Baked zucchini fries