Baked zucchini sticks with Parmesan dip
Looking for a healthy side dish or snack that is fun to eat? These veggie sticks and dip are just what everyone will love!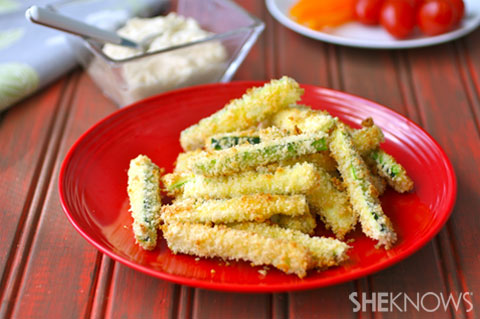 This recipe for baked zucchini sticks with Parmesan dip is healthier than some other snacks your family might love. You won't have to give up taste or texture when it comes to this recipe, however.
Coating the zucchini in crispy panko breadcrumbs and baking them keeps the crunch alive (and they're better for you than fried)! The tasty dip will add flavor to the fun, but you could serve another favorite, like salsa, on the side, too.
Baked zucchini sticks with Parmesan dip
Serves 4
Ingredients:
For the dip
1/3 cup low-fat mayonnaise
3-4 tablespoons grated Parmesan cheese
1 teaspoon prepared mustard
1/8 teaspoon onion powder
1-2 teaspoons milk
1/4 teaspoon ground black pepper
1/4 teaspoon dried dill
For the zucchini sticks
2 small zucchini, ends cut off, semi-peeled, seeds removed, then cut into 4-inch long cubes (shaped like French fries)
1-1/2 to 2 cups panko breadcrumbs
1/2 teaspoon salt
1/2 teaspoon ground black pepper
2 eggs, beaten
1/2 cup all-purpose baking flour
Nonstick cooking spray
Directions:
For the Parmesan dip
Add all the ingredients to a small bowl and mix well. Taste the dip and adjust the seasoning as needed.
Keep in mind that you may want to add the salt a little at a time, or none at all, since the Parmesan cheese is salty to begin with.
Refrigerate until ready to use.
For the zucchini sticks
Preheat your oven to 400 degrees F. Spray the top tray of a broiling pan (or ovenproof cooling rack) with the nonstick spray and place it on a baking sheet. Set it aside.
Add the panko breadcrumbs along with the salt and pepper to a shallow bowl. Stir to incorporate.
Add the beaten egg to a shallow bowl, and the flour to another.
Place your baking sheet with the tray near your bowls.
Do this for each zucchini stick: First put a few of the sticks in the flour to coat them, then dredge each in the egg and allow the excess to drip off into the bowl. Finally, coat each stick in the breadcrumb mixture, then place it on the tray.
Spray the tops of all the zucchini sticks lightly with the nonstick cooking spray.
Bake for 12 to 15 minutes, keeping a watch on the zucchini so they don't burn.
When they turn golden, remove them from the oven.
Serve them warm with the Parmesan dip.
Stick with this snack!
More snack ideas
Grab-and-go veggie cups with green goddess dip
Tropical fruit smoothie
Cinnamon-sugar acorn squash chips